Happo-en: The Garden of Eight Views
After visiting the Sengaku-ji Temple in Shinagawa, we took a short detour to check out the Happo-en Garden. Since its name can roughly be translated as "beautiful from eight views," we suspected that it wouldn't disappointing.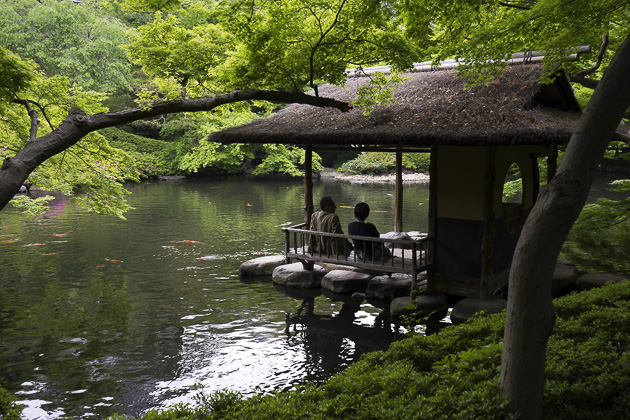 The garden of Happo-en was founded hundreds of years ago by an adviser to the shogun, and has ever since provided a place of respite. Built on a hill, it really is "beautiful from eight views." Actually, it's beautiful from just about anywhere, whether you're at the top looking down, or seated next to the koi pond at the bottom. At the entrance is a magnificent line-up of bonsai trees, some of which surpass 500 years in age. (Once, I bought my dad a bonsai for his birthday. It lasted five days.)
Although the Happo-en is free to enter, it's most well-known for the restaurant, banquet hall and chapel which can be rented out for special occasions. There was a wedding underway during our visit and, hidden by the shadows of the garden's abundant trees, we were able to watch the bride and groom exchange vows, like the creepy foreign weirdos we are.
Near the bottom of the Happo-en Garden, close to the chapel, is the Muan Tea House, where we sat down for matcha tea served by a lovely girl dressed in a kimono. Matcha is never cheap, and it certainly wasn't here, but the price does help force you into a sort of concentrated appreciation. You're spending eight bucks on a cup of tea, so you'll want to this to be the most wonderful tea-drinking experience you've ever had. Luckily, with the Happo-en garden providing the backdrop, that just might be the case.