Asakusa's Owl & Parakeet Cafe
"This is fun," I said to the girl working at the cafe, raising my voice to be heard above the squawking. "But it would never be allowed in America!" She looked at me, baffled, and asked why not. At this moment, there were six parakeets on my head, and bird poop was running down my shoulder. Something was pecking at my neck and, in the next room, people were petting an eagle. I considered explaining, but decided against it. Regarding animal cafes, the rift between our cultures might be too wide.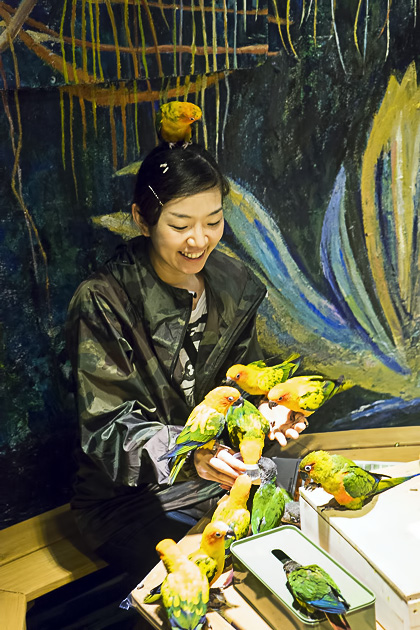 We had visited a dog cafe in Busan, and cat cafes have become popular in a few European cities. But Tokyo always enjoys taking things to the next level. In addition to dog and cat cafes, this city has cafes dedicated to goats, turtles, snakes, rabbits… and owls. We showed up at Asakusa's Owl & Parakeet Cafe, not long after it opened to the public.
On entering the downstairs cafe, my first thought was "This place is tiny," followed immediately by "Holy crap, that's a huge eagle!" It was right next to me, definitely within pecking-distance. My primal instinct ordered me to flee, but given the size of the room, there was nowhere to go.
In a cage in the corner, we found two fluffy baby owls, just one month old and already quite large. Above them sat a couple full-grown owls, and we were encouraged to go ahead and pet them all, including the babies. I hovered my hand above one owl, trying to pet her, but she kept a steady eye on my fingers, pecking whenever they came too near. Eventually she calmed down and I was able to scratch the back of her head.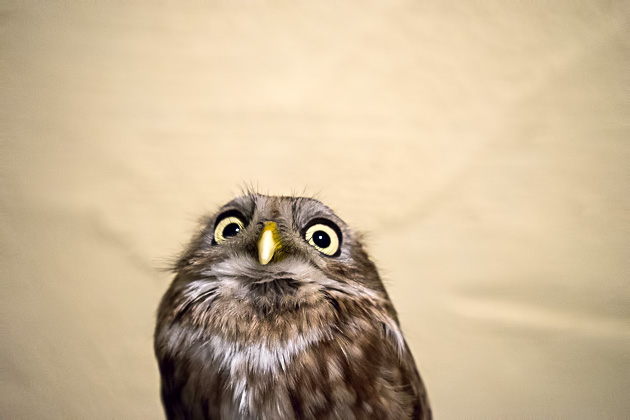 This was already crazier than any other "cafe" I'd ever been to. But now we passed into the larger "parakeet room" and the crazy level went from 10 to WTF?!? Flying around wildly were over sixty squawking parakeets who, from the moment we entered, were fighting with each other for the honor of perching atop our heads. Those who couldn't find room on our heads contented themselves with our shoulders, arms and hands. One feathered fellow, who I never actually laid eyes on, nestled into a comfortable position at the back of my neck, which he would occasionally nibble.
The girl working in the cafe put a container of seeds into my hand, which I appreciated because I had just been thinking that this needed to get even more insane. The birds immediately recognized the container and dove for my hand, trying to pry the lid off. "You can pet them," said our guide, as though this were something I had the slightest desire to do. Instead of petting them, may I wring their necks?
May I run screaming from the room?
Asakusa's Owl and Parakeet Cafe is hard to classify as "fun," and it's certainly not a cafe in which you'd want to drink coffee, but it's quite an experience. How much you enjoy it depends entirely on how much you love birds.