Dinner Behind Bars at Alcatraz E.R.
It's safe to say we've never dined in an atmosphere remotely similar to that of Shibuya's Alcatraz E.R. The name says it all: this theme restaurant is meant to emulate the experience of eating inside the blood-spattered emergency room of a high-security prison. Have I mentioned that Tokyo is a little strange?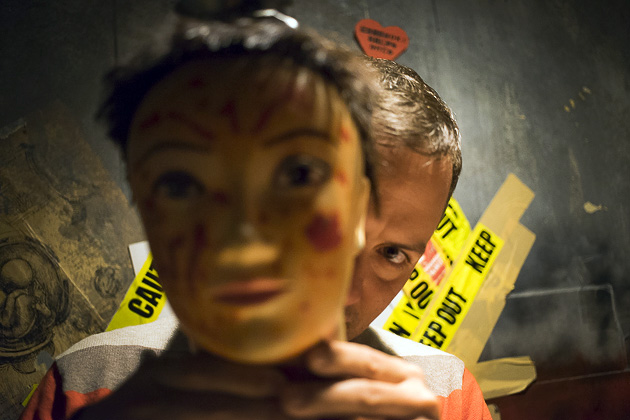 Theme restaurants are all the rage in Tokyo. People will line up to eat in places dedicated to topics like ninjas, vampires, Alice in Wonderland, maids, robots and butlers. And, of course, the emergency rooms of prisons.
After stepping off the elevator, we pressed a big red button smeared with bloody hand-prints in order to open the door of Alcatraz E.R. A woman dressed as a nurse-waitress-torturer greeted us and led us to our table, which was within a prison cell. We walked past grisly scenes of bloody emergency room madness, including mutilated corpses who'd been interred in the floor, and were locked into the cage where we would be enjoying dinner.
Dinner Behind Bars at Alcatraz E.R.
The menu is hilarious, with intestine-shaped sausages served in bedpans, sexually-deviant cocktails and weird culinary experiments like bright blue curry. We ordered a lot, and were enjoying fried chicken when suddenly the lights in the prison went out. Warning signals flashed red down the corridors outside our cell, while blood-curdling screams blared over the intercom. The inmates were loose! We sat silently, until noticing a silhouette in the cell with us. From what I could discern in the strobing red light, he looked rather like a murderer. Jürgen unleashed a wail of terror, the likes of which I'd never heard from him before.
It was quite a night, and not too expensive. I had expected the food to be over-priced to compensate for the show, but that wasn't the case. Even the drinks were reasonable, and the cover charge was only ¥500. You might want to stay away if you're afraid of the dark, or prison, or masked men suddenly standing next to you in your prison cell, or evil nurses forcing you to drink from decapitated heads, but otherwise a night out at Alcatraz E.R. is a lot of fun.
–More Strange Stuff from Japan