Japanese Baseball and the Yakult Swallows
Sumo wrestling might be the country's most traditional pastime and soccer is gaining ground every year, but Japan's sporting obsession has long been baseball. I always love a trip to the ballpark, so we visited the Meiji Jingu Stadium for a match between the Yakult Swallows and the Hanshin Tigers.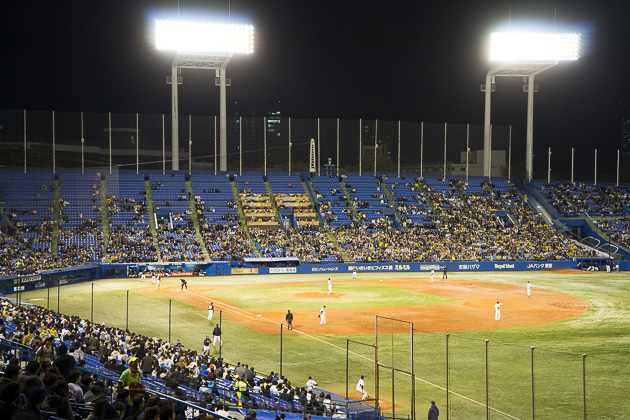 In Japanese baseball, the strike zone, field and ball are slightly smaller, and games that reach the 12th inning deadlocked end in a tie, but otherwise there are no real differences between Japanese and American baseball. Quite a few US players finish their careers in Japan, and of course, Japanese players occasionally "graduate" to the MLB. Ichiro Suzuki, Hideki Matsui and Hideo Nomo are a just few of the famous athletes who've found success in America.
At Meiji Jingu Stadium, I almost felt as though we were attending a minor league game in the States. The crowd wasn't as large as I had expected. In fact, the majority of seats were empty… maybe because it was an unimportant early-season game, or perhaps thanks to the rain. Or it could be that the Swallows aren't that popular. The cheering section for the visiting Tigers was notably larger and louder than that for the home team.
So, we were not happy during the first couple innings. The rain had started with the first pitch, and our view in the lower outfield was obstructed by a fence. But eventually the weather improved. We dug into the sushi and beer we'd brought with us, and started loosening up. And then the Swallows scored and the fans surrounding us, who had been singing and clapping without pause, pulled out tiny umbrellas which they waved about wildly. Apparently, nothing says "Go Swallows" like dainty umbrellas.
The atmosphere inside the stadium improved with every inning, and by the time the Swallows had secured their 5-2 victory, we were in great spirits. Five runs meant five miniature umbrella dances, and it's impossible to remain grumpy in the face of such joy. In fact, by the time we left, we were already looking forward to our next trip to the ballpark. In a few weeks, we had plans to visit the Tokyo Dome and root on the Yomuri Giants.
Location of Meiji Jingu Stadium on our Map
–Compare It To The Baseball Culture In South Korea