The Summer Sumo Tournament
We were lucky enough to be in Tokyo during the Summer Sumo Tournament, the Natsu Basho, and bought tickets as soon as they became available. Sumo is one of Japan's most famous cultural products, and we were determined not to miss out.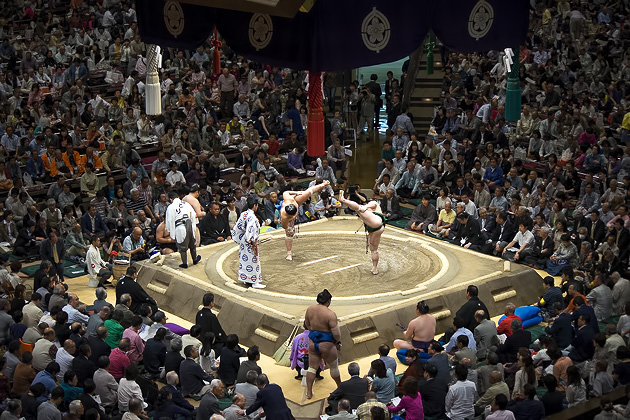 Six tournaments are held annually in Japan, and three of them take place in Tokyo's National Sumo Hall, the Ryogoku Kokugikan. These tournaments last for fifteen days, run from the early morning to the evening, and involve hundreds of wrestlers in six divisions. Each day gets started with the lower-division bouts, and the crowd grows in size and excitement until the biggest stars appear at around 6pm.
In sumo, the highest rank a wrestler can achieve is yokozuna, followed by ozeki, sekiwake and maegashira. These four ranks make up the top division, the Makuuchi. The rankings are decided upon by a panel of experts, and the number of wrestlers in each class is fixed (44 in the Makuuchi Division, 28 in the Juryo Division, etc), but the number of yokozuna is variable. Once a wrestler has been named a yokozuna, it's a title he carries for life, so on any given year, there might be zero, one, two or more. We had the chance to see three yokozuna, which is rare.
We showed up early, wanting to take full advantage of our tickets, but most spectators don't roll into the Ryogoku Kokugikan until around 2pm, when the bouts of the Juryo and Makuuchi Divisions are scheduled to begin. These are the "pro" divisions, with the wrestlers whom the fans know by name and face: those who feature in the programs, and on collectible trading cards. They're mostly Japanese or Mongolian, but a few come from other countries as well, such as Georgian behemoth Gagamaru, Osunaarashi from Egypt, and the Czech Republic's small and muscular Takanoyama, who more resembles an MMA fighter than a sumo wrestler.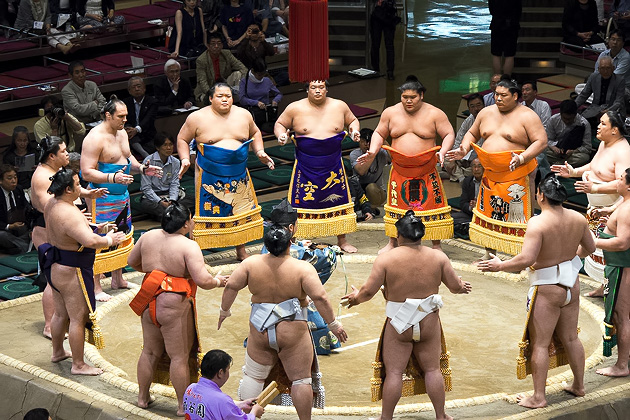 I doubt there's a spectator sport in the world in which pomp and ceremony outweigh the action by such a degree, as in sumo. For every ten seconds of wrestling, there are ten minutes of preparation: entering the ring, slapping the belly, lifting the leg, chalking the palms, and usually at least three false starts. But when a match finally does get underway, it's usually thrilling. Contests are decided quickly, after a few seconds of these huge guys tossing each other around, balancing on the edge of the ring, and slamming into one another with unbelievable power and dexterity.
Our day at the stadium began slowly, with only a few spectators on hand for the lower-division bouts, but the attendance swelled steadily. By the time the Makuuchi wrestlers entered for their elaborate ring-entering ceremony, the atmosphere had reached a fever pitch. A group of school age girls behind us squealed in delight when a young wrestler named Endo made his entrance, and the sweet old ladies next to us roared their approval as Hakuho won his match. These guys are superstars in Japan, and a wrestler who's achieved a high rank can live quite comfortably off endorsements and sponsorships.
If you happen to be in Tokyo during one of the tournaments hosted in the Ryokgoku Kokugikan, you should make every effort to attend. Getting tickets is tricky for non-Japanese speakers, but agencies such as BuySumoTickets.com (which we used) can assist. It's not cheap, but this is all-day entertainment and well worth the price. I figured that we'd eventually get bored, but we were riveted by every match, and stayed glued to our seats throughout the afternoon. Sumo is one of the most unique and exciting sporting events I've ever attended. If I lived full-time in Japan, it's something I could totally get into.
Location of the Ryogoku Kokugikan on our Map
Japanese Grand Sumo – Official Website