The Historic Neighborhood of Fukagawa
Across the Sumida River from Nihonbashi, Fukagawa is one of Tokyo's original fifteen wards. We spent a day wandering around its uncrowded streets, allowing the district to surprise us with an excellent museum, a tranquil garden and, for lunch, a delicious bowl of the neighborhood specialty, Fukugawa Meshi.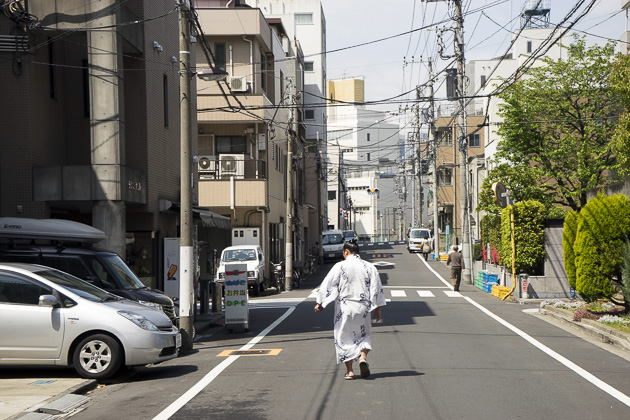 Fukugawa is home to a few of Tokyo's most acclaimed sumo stables. In fact, after emerging from the metro, the very first person we saw was a sumo wrestler, clad in a robe and large enough to blot out the sun. Like starstruck schoolgirls, we followed him at a discrete distance, watching as he went into a 7-11 to flip through comics. It's not that I expect sumo wrestlers to constantly be eating or practicing, but it was somehow amusing to see this massive guy being so normal, just going about his day.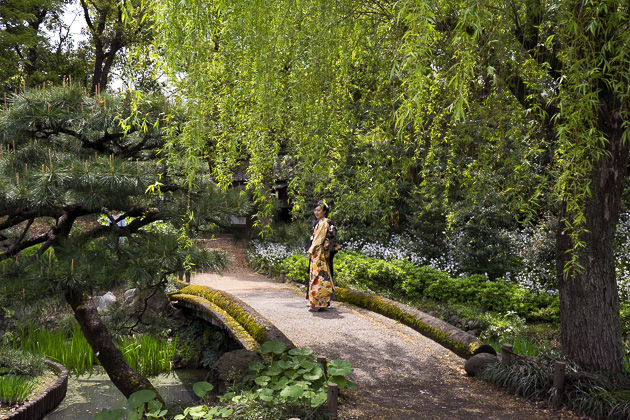 Next, we paid a small fee to enter the Kiyosumi Gardens, a 20-acre park with a circular path that leads along a pond, past a tea house, and through thousands of trees. The garden was created in the eighteenth century, and purchased in 1878 by Iwasaki Yataro, founder of the Mitsubishi Corporation, who intended to use it as a place of rest for his employees. Opened to the public in 1932, Kiyosumi is one of the more beautiful gardens we visited in Tokyo, thanks largely to an almost total lack of other tourists.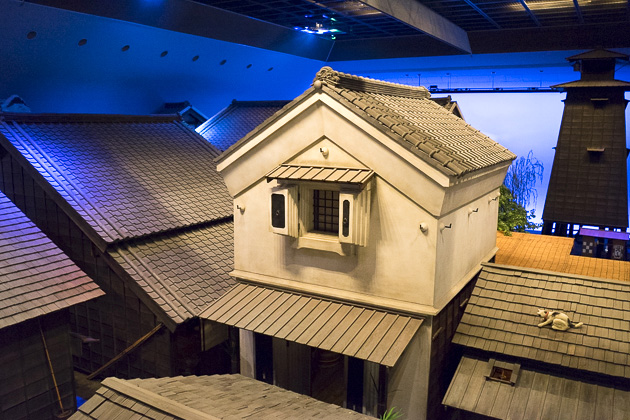 After leaving the garden, we walked a few blocks to the west and came upon the Fukagawa Edo Folk Museum. We weren't sure what to expect here, but certainly not what we found: a full-scale reconstruction of Edo-era Fukagawa. This museum was a real surprise. Around eight houses have been built, some in cut-away to better show off the interiors, and others in their entirety. You're allowed to remove your shoes and enter all of the buildings, both the residences and the stores. You can walk down by the canal (Fukagawa was an important port of Edo), look up at the fire tower, peer into the outdoor toilet shared by the entire neighborhood and see the roving soba vendor.
The museum is very permissive, allowing and even encouraging photographs, and visitors are free to handle any of the artifacts which are laying around. But the best part might be the dedicated volunteer staff, many of whom speak English, and all of whom are eager to answer questions you might have. The woman following us around was even answering questions we didn't have.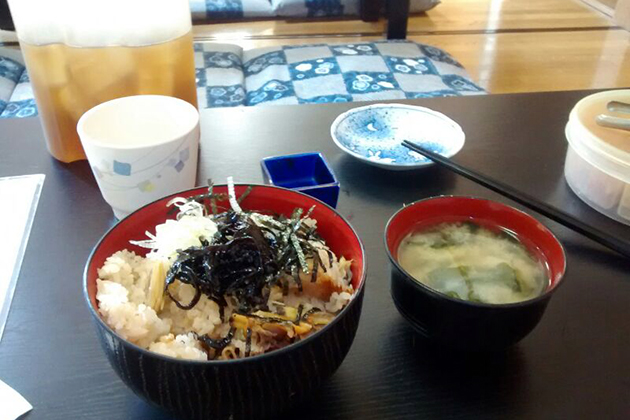 By the time we finished in the museum, we were famished and set out to find lunch. While puzzling over the Japanese-only menu of a nearby restaurant, a group of older men clad in hiking gear stormed past us and into the door. The last one in line looked back and rubbed his belly as if to say, "yummy yummy"… and that's as good a recommendation as you're likely to get. We went up to the third floor, removed our shoes, sat down and dug into the neighborhood specialty: Fukagawa Meshi, a rice dish topped with a rich miso-based broth of clams and green onions.
Fukagawa doesn't see a lot of foreign tourism, perhaps because it's on the wrong side of the Sumida River. But this historic neighborhood is still quite central, easy to reach, and worth at least half a day. Probably more.
Locations on our Map: Kiyosumi Gardens | Edo Folk Museum | Meshi Restaurant
–Our Apartment In Tokyo Was Very Close To This Neighborhood