The Shinjuku Gyoen National Garden
Widely considered to be one of the prettiest spots in Tokyo, the Shinjuku Gyoen National Garden has long been a favorite spot for weary Tokyoites looking to escape the city's concrete jungle. However, if it's crowds you're hoping to escape, you might want to look elsewhere.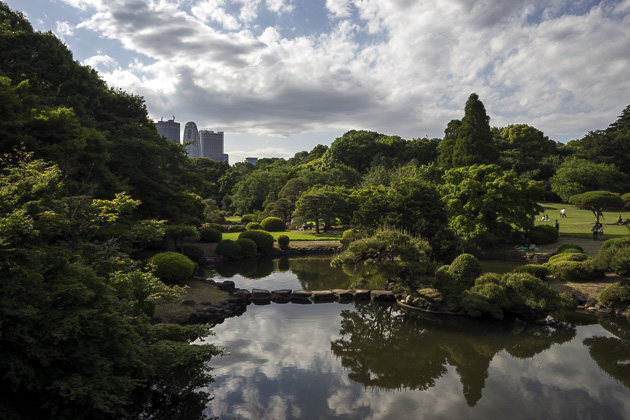 Like many of the city's traditional gardens, the Shinjuku Gyoen charges a small entrance fee. But considering the size of the place and the great expense which must go into its maintenance, this is hardly unreasonable. At 144 acres in area, these gardens are massive. You could easily spend hours touring the various sections. There's a greenhouse near the entrance, an English-style garden with cleanly manicured lawns, a French-style garden meant to replicate the courtyard of a palace, and of course the Japanese section.
Perhaps the most impressive thing about the garden, at least while we were there, was the sheer number of visitors. Dispiriting, but not surprising. After all, it's right next door to Shinjuku Station, which is the busiest transportation hub in the world. Plus, it was the warmest day of the still-nascent summer, and a Saturday to boot.
The land was originally the property of Lord Naito, a powerful shogun from Tsuruga, who built the garden in the late eighteenth century. It became the property of the Meiji Empire on their ascension to power, and would host hanami flower-viewing parties for the emperor up until the outbreak of World War II. The gardens were largely destroyed by bombing, but rebuilt after the war and given over to the public in 1949.
With its backdrop provided by Shinjuku's skyscraper district, the Shinjuku Gyoen Garden is nice, but we didn't love our time there. The park was no more charming than others we'd seen in Tokyo, and far less peaceful. Better were Fukugawa's Kiyosumi Shirakawa Gardens, those of the Nezu Museum, and the gardens of the Sensō-ji Temple in Asakusa. But still, Shinjuku Gyoen has a reputation as one of the city's highlights. Try showing up early on a weekday, and you'll almost certainly have a wonderful experience.
Location on our Map

-Great Collection of Bosai Trees