A Perfectly Normal Day in Yoyogi Park
It's hard to say exactly when Tokyo started to frighten me, but it was probably during our visit to Yoyogi Park. While watching Japanese rockabillies bounce-step to Joan Jett, I moved out of the way for a couple dressed in… let's call it "Victorian Gothic Steampunk, Pastels Version." And that's when it hit home: something's not quite right in this city.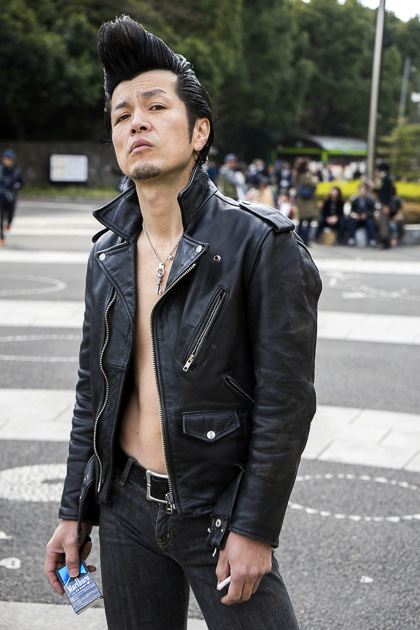 I'm from the American Midwest, where brightly-colored shoelaces are a rebellious act of fashion outrage. While I can respect the eccentric style of others, I've never had the slightest desire to dress myself in weird clothes. But in Yoyogi Park, for the first time ever, I felt a spark of jealousy for the world's fashion misfits. Is it "ridiculous" to walk around in public dressed like a cutesy-pie french maid? Or is it ridiculously awesome?
And then I imagined what I'd look like waltzing around as a french maid. No, some things are better left to the Japanese.
We had a blast in Yoyogi Park, which seems to be where the city's fashion freaks congregate for the weekend. There was so much going on here, so many odd sights, such as groups of pop-idol wannabes practicing, dogs dressed up as crocodiles, badminton battles, picnics with pyramids of empty beer cans, cool guys with dreadlocks tapping bongos, and an honest-to-god, rough-and-tumble group of head-banging Japanese rockabillies.
Yoyogi, one of Tokyo's biggest parks, was originally used as training grounds for the army. After WWII, it provided accommodation space for the US military and was given the nickname "Washington Heights." In 1964, the park served as the site of the Olympic Village. Adjacent is the Yoyogi National Stadium, built for the Olympics, with its distinctive suspended roof. When we walked by, youngsters were streaming into the stadium to attend a concert for Androp, a popular (and pretty awesome) Japanese alternative rock band.
Go on the weekend, pack a blanket and a bento box, make sure your camera is charged, and prepare yourself for some insanity. Yoyogi is one of the strangest parks you'll likely ever see.