Directly across from one of Tokyo's craziest areas (Harajuku) is one of its most serene. Built to guard the spirits of Emperor Meiji and the Empress Consort Shōken, the Meiji Shrine is tucked away in a large evergreen forest, which neither the city's noise nor stress can reach.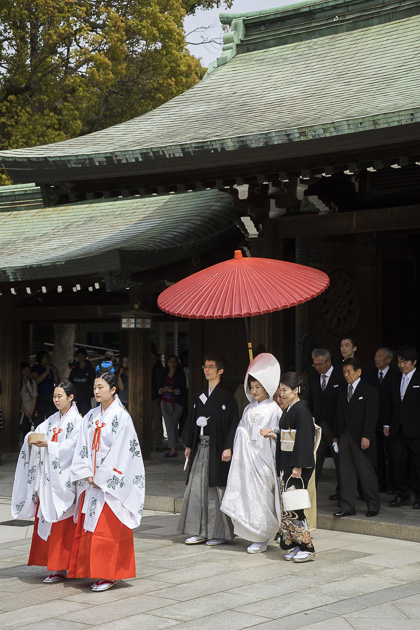 Emperor Meiji was largely responsible for bringing Japan into the modern age. After wresting power from the Tokugawa Shogunate and re-establishing the empire in 1868, he instituted a series of political, economic and cultural reforms meant to make Japan competitive with the West. Meiji died in 1912, followed shortly thereafter by the Dowager Empress Shōken, and plans were immediately drawn to honor them with a Shinto shrine.
The forest north of Yoyogi Park was a favorite escape for the couple, who would rest from their imperial duties by taking long walks through fields of irises. Back then, the forest was quite far from the city. But Tokyo has grown a lot, and today, Meiji Park is right in the middle, within easy walking distance of Shibuya.
Entrance to the park is gained by passing under an enormous torii, the traditional gate which is typical of Shinto shrines. The torii seems to signal passage into another world. Having just left the city and the cosplay-attired girls of Harajuku behind, it was surreal to see the broad trail leading slightly downhill into a woods thickly populated with towering old-growth forest.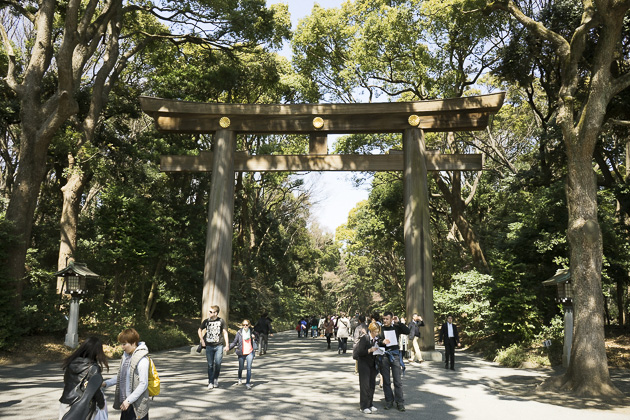 The path to the shrine is long and full of distractions. For example, we encountered an enormous wall of barrels filled with French wine and sake, left as a tribute to the Emperor. There was also a pictorial commemoration of the Empress Consort Shōken, who dedicated her privileged life to helping those less fortunate. We were also delayed by the presence of a large Japanese garden hidden within the forest. Toward the north of the park, we spent time watching students practicing judo inside a classic dojo, and then paid entrance to a small museum which holds some of the Emperor's treasures.
So by the time we actually made it to the center of the park, the shrine felt almost like an afterthought. "Oh yeah, that's why we're here!" Dependably surrounded by bowing worshipers, photo-snapping tourists, solemn monks, and wedding parties, this shrine was completed in 1920 but had to be totally reconstructed after WWII. It was crowded during our visit, but the atmosphere was festive and enjoyable, and I couldn't help but think that the spirits of Meiji and Shōken would be pleased by its popularity.