Look at You! You Think You're Ready for Harajuku!
We knew it was going to be crazy. We'd seen pictures! We had read online accounts and talked to people who'd been there. Sure, Harajuku was going to be nuts, especially on the shopping street of Takeshita-dori, but we were ready. I mean, this is still Earth, people are people, and a crowd is a crowd. Am I right? It can't be anything we haven't seen a million times before.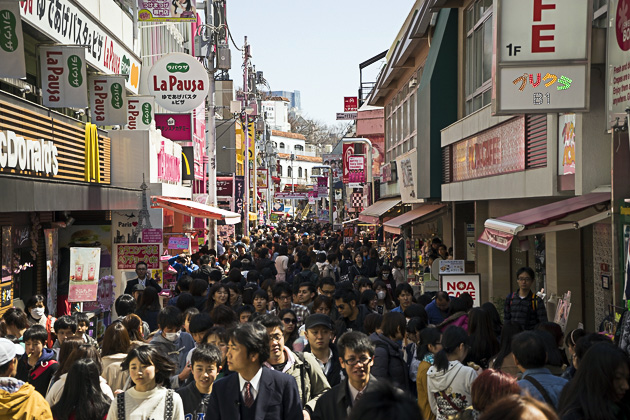 And then it was Sunday and we were standing at the top of Takeshita-dori, next to the entrance to the Meiji Shrine, looking down on a scene of absolute madness. In fact, this was nothing like anything we'd ever seen before. Why would so many people choose to congregate right here? Why does everyone need to shop at these stores, simultaneously? No, I'd never witnessed a crowd like this, and certainly not one with people clad in such bizarre fashion.
Once we manned up and dove into its midst, the crowd was less intimidating. It's annoying to be jostled to and fro, but it's significantly less annoying when the people jostling you are dressed as Vampire-Lolitas. Yes, you shoulder-checked me, but I see you are a Giggle-Kitten-Neon-Baby or whatever, so I suppose that's fine. You could probably knee me in the groin, and I'd find it cute.
Well, further written description is pointless, as I'm sure that photos can better convey the ridiculousness of Harajuku on a Sunday. Both an absolute nightmare and an absolute blast.
Location of Takeshita-Dori on our Map
–The Ultimate Tokyo Pop Culture Online Store!!!!