The Ooedo Onsen Monogatari Spa
The most popular spa in Tokyo is found on Odaiba Island. The Ooedo Onsen Monogatari isn't cheap, but it offers more than just hot baths. While inside, you can dine at a variety of restaurants, sleep in a capsule hotel, watch TV, or enjoy the festive atmosphere in a hall designed to evoke Old Edo.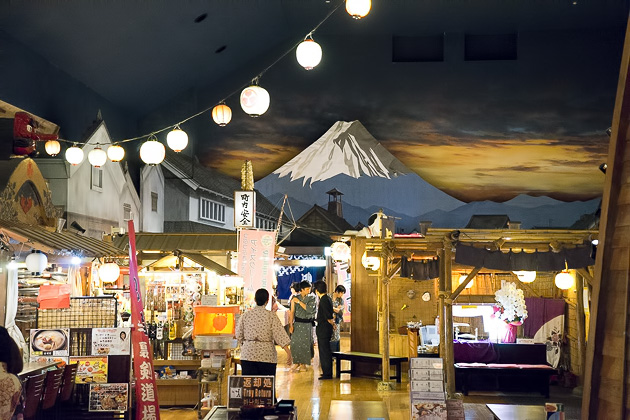 After paying at the front desk, we were asked to pick out a yukata: a traditional robe which we'd be wearing throughout our stay in the spa. But for the first hour, our yukatas were to be left folded inside the locker… along with the rest of our clothing. It was time to get naked. The bathing rooms of Japanese spas are sex-segregated, no-clothing zones.
Luckily, we had been acclimated to the Wonderful World of Male Asian Nudity during our time in Korea, which has a similar spa culture. At our first such experience in Busan, I had been shy, but after visiting a few spas, I eventually became accustomed to it. And today, I have no problem running around naked in front of total strangers. (See, Mom? See how travel has helped me grow?)
So where were we? Oh yes, naked in the bathing room. In Japan, it's important to be exquisitely clean before entering communal pools, so we sat down on stools in the shower stalls, and scrubbed ourselves thoroughly with soap and water. And now we could enter the hall. There were a couple tubs of piping hot water, one that was extremely cold, an inferno-like sauna which I could tolerate for only a couple minutes, and an outdoor pool of pleasantly warm water.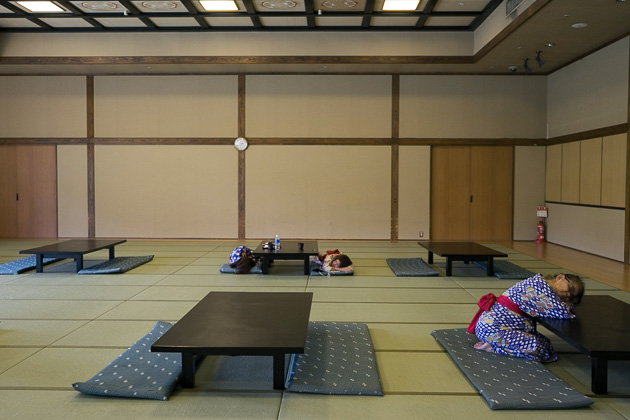 After our bodies felt sufficiently relaxed, we donned our yukatas and returned to the main hall of the spa, where a traditional neighborhood has been re-constructed around an artificial stream. We took a tea break in the tatami room, and then went into a outside garden for the foot baths. Gingerly, we stepped into a pond whose floor consisted of rocks of varying sizes, designed to massage your feet as you walk through. This was painful, but after emerging, my feet really did feel like new.
Unfortunately, the foot-torture was just beginning. The Ooedo Onsen also has (at additional cost) a tank full of Garra rufa fish, a kind of small Turkish carp that loves to eat dead skin. We paid for fifteen minutes, and sat down at the tank. As soon as I submerged my feet, they were covered in fish. It felt weird as they nibbled away my detritus, like mild electric shocks. Jürgen loved it, but this was not for me, and I had to quit before our time had expired.
We finished our day with a long nap in the "relaxation room," where at least a hundred cushiony black recliners were lined up, each with a personal television. I flipped around for a couple minutes, but soon fell into a deep sleep. After waking, we took our leave of the Ooedo Onsen, totally refreshed, with cleaned bodies, relaxed muscles, nibbled feet and lightened wallets. Though a few hours had been enough for us, you're allowed to stay for the whole day, and I imagine most visitors do.
–Weird Japanese Health And Beauty Products