Odaiba Island
When Tokyo wants to relax, it comes to Odaiba, an artificial island which began as a set of defensive fortifications but has become the city's premiere entertainment zone. With museums, arcades, parks and more shopping than a person could possibly need, a day spent in Odaiba will almost certainly be expensive, tiring and loads of fun.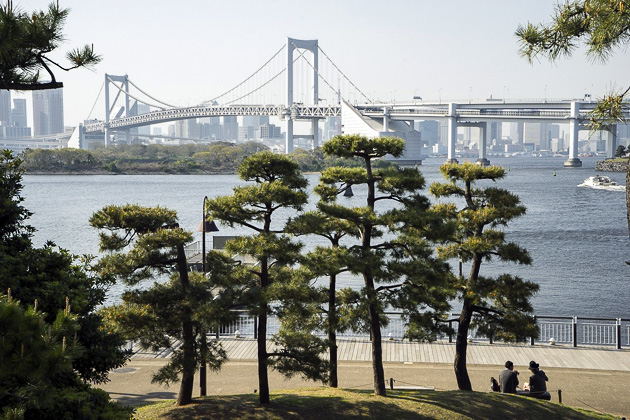 Odaiba originally came into being in the 1850s, after US Admiral Matthew Perry threatened to take Japan to war over its isolationism. Alarmed, the Shogun had land filled in, to create six small artificial islands on which to station guns. In fact, the word "Daiba" means "Battery," and there's a small park where you can see some of the original fortifications.
It wasn't until the 1990s that Odaiba found its modern calling: entertainment. In a concentrated effort to bring life to an almost forgotten corner of the city, Tokyo began to revitalize Odaiba. More land was filled in, the Rainbow Bridge was built in 1993 and the Yurikamome Elevated Monorail debuted a few years later. With improved access and relatively cheap land, shopping malls sprouted like weeds: Decks, Diver City, Aqua City, Venus Fort. The Tokyo Big Sight convention center opened in 1996. The Oedo Onsen Spa was built in 2003, encouraging overnight stays. Eventually, you could find insane arcades like Joypolis, museums like the Miraikan, and entertainment complexes like Palette Town, which features the Daikanransha Ferris Wheel, Toyota's Mega Web, and the Zepp Tokyo Music Hall.
Through sheer force of will, Odaiba had become an attractive destination and today people flock here in hordes, especially on the weekends. We joined leisure-seeking Tokyoites on a sunny Saturday, arriving via the Yurikamome line from Shimbashi Station. The monorail is all above-ground and offers superb views as it completes a large 360° loop before crossing the Rainbow Bridge to reach Odaiba.
We exited at Odaiba-kaihinkōen Station and walked to the beach. I wouldn't want to swim in Tokyo Bay, but the murky, discolored water doesn't seem to bother the Japanese, who were wind-surfing, splashing around and building sand castles. Leaving the beach, we got lunch at Decks, a shopping mall in which we found a throwback arcade. We played old-time pachinko and challenged each other to the original Super Mario Brothers from 1985. (I could still remember every jump, and knew exactly which blocks to hit, so I expected to prevail. But apparently Jürgen had also owned a Nintendo, and ended up winning easily.)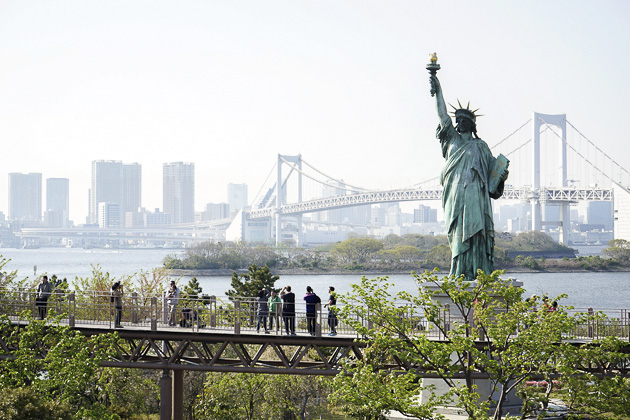 Continuing our walk down the shore, we encountered a familiar old friend whom I hadn't expected to meet in Japan. Staring at us from the waters of Tokyo Bay was the Statue of Liberty — not as large as the one in New York Harbor, but otherwise identical. She came to Japan in 1998 as part of the country's "French Year" initiative, and was popular enough to earn a permanent spot on Odaiba.
From the statue, we ventured into the Fuji TV Headquarters, recognizable by the massive globe suspended far above the ground, in the middle of the building. Inside the headquarters, you can see the studios and visit a variety of shops and exhibitions dedicated to the programs of Fuji TV. We paid extra to ascend into the metal ball, which is 23 meters in diameter and features an observation deck. Unfortunately, the view wasn't the best, and you're forced to contend with a never-ending barrage of blaring advertisements and promotions for the channel's newest hits.
Our plan had been to tour all of Odaiba in one day, but the sun was already starting to sink before we finished with Fuji TV. We walked quickly through Aqua City, another shopping mall next to Decks, and then collapsed into chairs at a no-nonsense beach bar selling cold cans of beer to watch the city across the bay light up under the darkening sky. It was a crazy afternoon, and we'd barely even seen a fraction of everything Odaiba has to offer. It seemed a safe bet we'd be returning, and in fact we did, the very next day.
Locations on our Map: Decks | Statue of Liberty | Aqua City | Our Favorite Beach Bar