Sega Joypolis
It was our last day in Tokyo. Although we weren't leaving until the early evening, we had finished packing by 10am and found ourselves with time to kill. Should we go see one last museum? Take a leisurely farewell stroll through our favorite neighborhood? Or… should we scarf down a final fix of ramen and spend our last couple hours in Tokyo playing video games? Sega Joypolis, here we come!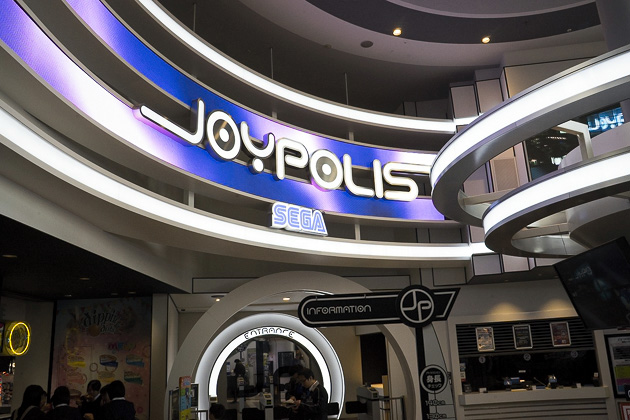 Honestly, I'm amazed that we held off on visiting Joypolis for so long. From the moment we saw this arcade/theme park in the Decks Mall on Odaiba Island, I'd been obsessed. Video games, thrill rides, electronics, haunted houses, music, wonderful Japanese weirdness… Joypolis didn't just press all our buttons, it mashed on them like a frustrated noob playing Tekken. "Patience," we told ourselves. "If we survive 91 days in Tokyo, Joypolis will be our reward."
It was as fun as we had hoped. The place is out of control, with some of the craziest arcade games I've ever seen. The first one we tried was Halfpipe Tokyo, a snowboarding simulator that's equal parts roller coaster and rhythm game. You're strapped in with your partner and then sent screaming from side to side, twisting in the air as you crest the halfpipe. You're supposed to tilt your board when you're in the middle of the ramp, and you score points for how accurately you do so. It's hard! Four teams race at the same time, and Jürgen and I finished third.
Our performance didn't improve in the next game, Veil of Dark, a zombie-shooting roller coaster. You're strapped into a car, given a laser gun, and then progress slowly through a tunnel. Screens pop up in front of you, and you have to shoot monsters. After the final battle, the screen lifts and the car is propelled with unbelievable force into a roller-coaster that zips around the compact quarters of Joypolis. At the end, you get your scores: I finished last, and Jürgen second-to-last.
These are the two biggest attractions at Joypolis, but there are many, many others. We played a bobsled game in which you're rotated 360° (we actually won this one). There are car simulators, rides in which you seem to soar through the air, track-and-field competitions, a "fantasy forest" which tells your future (I'm apparently due for some good lovin'), quiz games, and a number of horror-themed attractions.
Jürgen has a serious aversion to anything resembling a haunted house, so I had to venture into Sadako 3D alone. I was asked to play the role of an photojournalist, investigating grisly crime scenes and taking pictures of the horrific things I saw. As I walked down a long hallway, looking for bloody clues, the lights started flickering and I heard a noise like shuffling behind me. My stomach sinking, I turned around. At the other end of the hall was a long-haired freak lady, straight out of The Ring. Then the lights went totally out, and I heard her approaching… when the lights came back on, she was right in front of me, dead eyes peering from behind her hair, hands reaching toward my neck. Screaming, I ran away.
Joypolis is great fun, and offers more than enough to fill an entire day. We had to leave before even getting to play with half the stuff, and I would have loved a second go at Halfpipe Tokyo or Veil of Dark. As you might expect, the place isn't cheap; after paying an entrance fee, you have to pay individually for each ride. This adds up quickly, so it's usually smarter to pony up for the flat-rate "passport," allowing you to ride anything you want as often as you want. We had made up the cost of the passport within two hours.
This wasn't the most profound or traditional way to spend our final hours in Tokyo, but we had an absolute blast in Joypolis. And so I suppose it was appropriate: if one sentiment defined our three months in this city, it was "crazy fun." And as far as crazy fun goes, Joypolis is hard to top.
Location on our Map
Sega Joypolis – Website
–Sonic the Hedgehog Speed Energy Drink