The Tsukiji Fish Market
With over 60,000 employees and billions of dollars in yearly commerce, Tsukiji is the biggest fish market in the world. The action begins every morning at 3am, as shipments of fresh and frozen fish from around the world arrive over land and sea.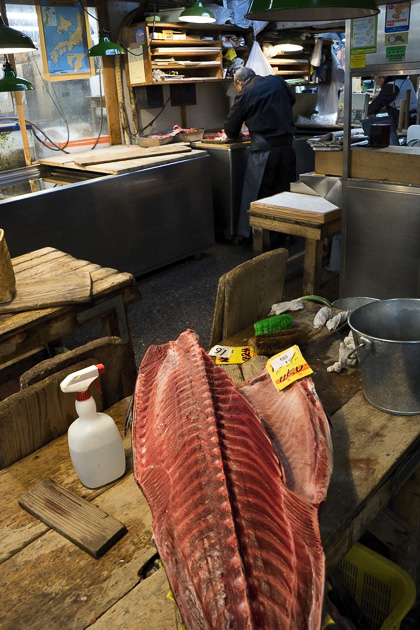 Tokyo's principal market had traditionally been held in the more central Nihombashi neighborhood, but after the devastating Kantō earthquake of 1923, it was moved to Tsujiki, closer to the port and to the railway lines of Shiodome. A semicircular hall was built to host the wholesalers and auctioneers and, for the next hundred years, Tsukiji was where Tokyo's restaurants went for their fresh fish. In 2016, the market is slated to move to Toyosu, even farther from the city center, where it will sit beside a new entertainment complex.
The first thing you notice when entering Tsukiji is its size. This isn't a market in the way one might normally think of a market; it's better described as an entire neighborhood dedicated to selling wholesale produce: not just fish, but fruits and vegetables. After the size, the next thing you'll notice, at least if you value your life, is the insane amount of traffic. When I wasn't watching a giant tuna being cut open, I was dodging a motorized cart.
You could walk for hours in Tsukiji and never pass the same stall twice. The amount of fish is unbelievable, and every species I'd ever heard of makes an appearance, from flounder to blowfish. You'll see decapitated eels floating in pans of their own blood, shrimps writhing around on beds of sawdust, and octopi suctioning for dear life onto their tanks.
Tsukiji is probably the only market I've ever visited that actively discourages shopping. This is a place for wholesale transactions, with fresh fish sold exclusively to restaurants and those buying in bulk. Visitors are tolerated, but grudgingly. The workers are performing a tense and time-sensitive job, and the last thing they want to do is answer a bunch of questions or remind guests to keep their hands off the merchandise. Before we even entered, we were handed a multi-language flier regarding "proper behavior," which boils down to "stay out of the way."
It's not for the squeamish, but visiting Tsukiji was an experience like none I've ever had. Being surrounded by commerce at its most intense, people at their most frantic, and millions of dying fish at their moment of truth was not entirely pleasant, but totally amazing.
Recently, guests have been prohibited from the early morning tuna auctions; we had to wait until 9am before the market area opened to the general public. Check out the Tsukiji Market's website for the latest information.