The Plastic Foods of Kappabashi
Perched atop the Niimi Building, the giant head of an Italian chef welcomes visitors to Kappabashi-dōri, where Tokyo's restaurants come to buy the things they need to run their business: chopsticks, cups, bowls, knives, takeaway containers, and naturally, an infinite variety of plastic foods.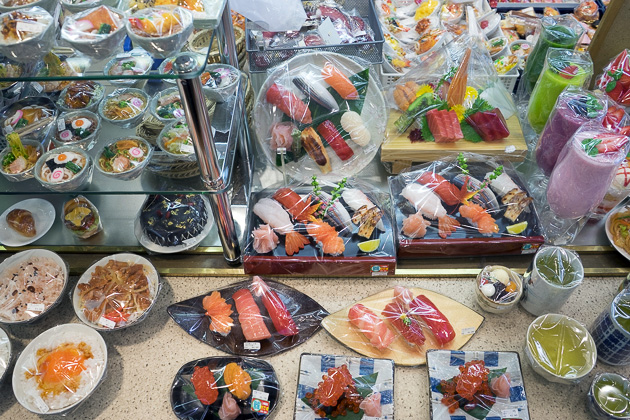 We've come to truly appreciate plastic food and, when deciding between restaurants, will always choose the one with the most plastic food in its windows. No, it's not some disturbing new diet. It's just that, in Japan, menus tend to be written in Japanese and only Japanese. (The nerve!) Not only are these plastic foods the only way for us to know what's being offered, they're also a convenient way to order. Rather than looking up the translation for "Curry Noodles," we can drag the waitress over to the window and point.
On Kappabashi-dōri, we discovered the stores from which Tokyo's restaurants buy their plastic foods. More than mere marketing tools, these fake plates of spaghetti, tonkatsu, sushi and cakes are vibrant works of art worthy of admiration. Ice cream, sashimi, hamburgers, overflowing mugs of beer… it all looked so good, I had to constantly remind myself that "This is plastic, plastic, plastic," lest I succumb to a futile feeding frenzy.
It's not all plastic foods on Kappabashi-dōri. There are other stores selling every kind of kitchenware you could want, from ceramic plates to tea sets, all at bargain-basement prices. This is an area meant for restaurants to buy in bulk, but unlike at Tsukiji's wholesale fish market, visitors are more than welcome to browse and make their own purchases.
-Make your own Japanese Plastic Sushi with this kit