Tokyo Station and Marunouchi
When Tokyo Station opened in 1914, it served four trains. But just like the city itself, the station has grown a little. Today, the sprawling station in the middle of the city serves an almost incomprehensible 3000 trains, every single day.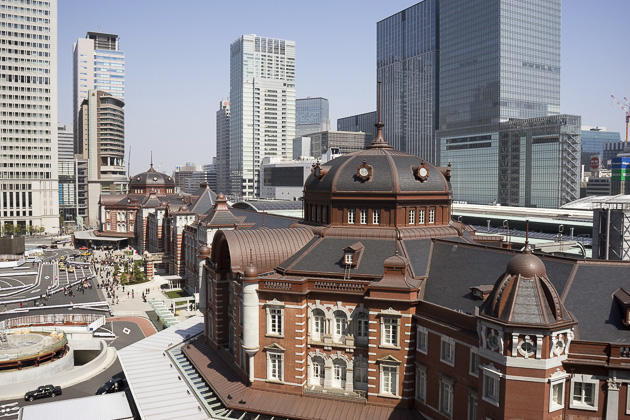 The classic, red-brick western facade of Tokyo Station was designed by architect Tatsuno Kingo to evoke Amsterdam's Centraal Station. Although it was boldly European and cutting-edge when constructed, today it looks positively quaint among the skyscrapers that surround it. But if it's "modern" you're looking for, just walk around to the sleek, steel-and-glass, eastern half of the station, built to accommodate Japan's famous Shinkansen bullet trains.
Across from the station's classic facade, is the neighborhood of Marunouchi. Meaning "Between the Moats," Marunouchi literally occupies the area which lies between the two artificial moats that once protected the Imperial Palace. In the days of the Shogun, this was home to the more trusted and important lords, but with the rise of the Meiji Empire, the space was given over to business interests. Today, it's one skyscraper after the other, each with its own shopping complex and set of restaurants.
During our time in Tokyo, we toured most of these skyscrapers, usually on the hunt for lunch. Each has a wide variety of restaurants, which almost always offer some sort of lunchtime special. Our favorite was the Kitte Building, which opened in 2013. Here, you can find a number of excellent places to eat (don't pass up the okonomiyaki at Restaurant Nana), a dazzling line-up of shops can suck up hours of time, and the sixth-floor garden provides one of the best views of Tokyo Station.
Locations on our Map: Tokyo Station West Entrance | Kitte Building