The Skyscrapers of Shinjuku
Although it's considered Western Tokyo, Shinjuku can legitimately claim to be the new center of the city. Shinjuku Station is busier than Tokyo Station, serving nearly four million passengers a day. The city government has moved here, and Shinjuku boasts not only Tokyo's most infamous entertainment district, but most of its tallest skyscrapers.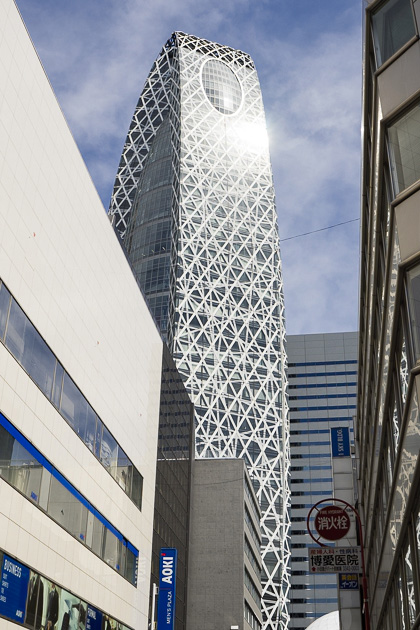 Shinjuku Station is easily the busiest train station in the world. It serves four separate railway companies and its labyrinth of underground passageways is bewildering, almost impossible to navigate. One day, having decided to tour the neighborhood's skyscrapers, we had been careful to follow signs for Exit A2. After a lengthy underground odyssey, we emerged into the daylight and realized that we were at the wrong exit A2; there was another with the same name on the other side of the station, administered by a different company. We felt stupid, until learning that Shinjuku Station has over 200 exits. Yeah, there are going to be a few mix-ups.
Eventually, we found our way to the western side of Shinjuku and began our introductory course to some of Tokyo's largest buildings. Between the station and Shinjuku Central Park, the skyscrapers are packed tightly together, one after the other. Many of them have free observation decks, although not all are accessible to visitors. We were stopped at the door of the Mode Gakuen Cocoon Tower, which has won architectural awards and is one of Tokyo's most distinctive buildings. Three universities are housed inside, and the building's cocoon shape is meant to symbolize the nurturing of the students within.
To get a view of the Cocoon, we ascended to the top of the neighboring Shinjuku Center Building, which was built in 1979. We also scaled the nearby Shinjuku Nomura, Mitsui and Sumitomo skyscrapers, each of which offered a slightly different perspective over the neighborhood. Our favorite building happened to be the smallest we entered. The Shinjuku NS is only 30 stories tall, but has a glass elevator on its corner and a hollow atrium with a hypnotizing water-clock designed by Seiko hanging on the wall.
We now made our way to the Metropolitan Government Office, built in 1991 by Japanese star architect Kenzo Tange. Featuring two towers that stretch up to 242 meters and a facade inspired by the Notre Dame Cathedral, this has become one of Tokyo's most emblematic buildings. Each of the towers has an observatory, and depending on when you're visiting, one or both might be open. We ascended the southern tower, and enjoyed the best view we'd had all day.
Prominent in the foreground when looking out from the Metropolitan is the Park Tower, also designed by Tange. The three towers of this enormous building are unmistakable, lined up like brothers of ascending height. The Park Tower is most well-known as the setting for Sofia Coppolla's Lost in Translation (a highly-praised film which Jürgen and I both hated for its ridiculous, borderline-racist treatment of the Japanese and for its fabulously rich and petulant protagonists.)
Despite our distaste for the film, we wanted to see the famous bar where Bill Murray's character spent his nights. But as the elevator doors opened, we were met by uniformed hosts who apparently have the job of politely truncating such sight-seeing before it gets started. Annoying, but fair enough; we were dressed in t-shirts, wearing backpacks and probably sweating, so it was a good bet that we weren't there for a fancy dinner. And it just gives us another reason to hate that stupid, overrated movie.
Locations on our Map: Cocoon Tower | Shinjuku NS | Metropolitan Government Office | Park Tower