Komagome and the Rikugi-en Gardens
A pleasant and almost entirely-overlooked neighborhood in the north of the city, Komagome is defined by narrow alleys lined with shops and restaurants, and is home to one of Tokyo's best gardens: the Rikugi-en, originally built at the end of the seventeenth century.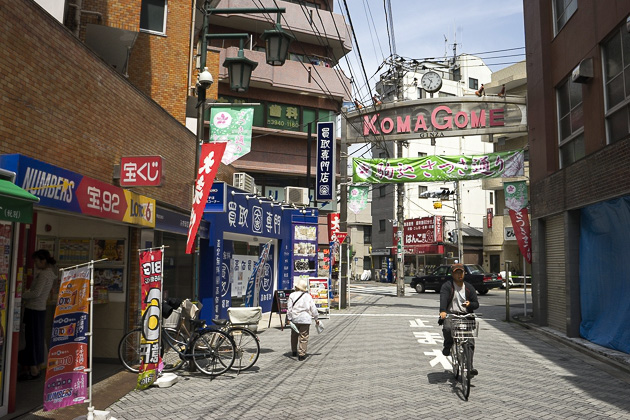 We got off the train at Komagome Station with low expectations, which were quickly confirmed. There simply isn't much here. But it's an agreeable kind of nothingness. The streets are pedestrian and unpretentious, with shops that are interesting without being touristy. And the few people walking about are definitely locals.
After doing some shopping (I found an odds-and-ends shop selling cheap origami paper), we made our way to the Rikugi-en Gardens. It seems to be a popular place, particularly with older Japanese people meeting for a day in the park. I later learned that "Rikugi-en" translates to the "Garden of the Six Principles of Poetry"… which… first of all, how can such a short name can have such a complicated meaning? And second: that's the weirdest name for a garden I've ever heard.
With its large pond, trees, hills and a circular path that leads around the grounds, the Rikugi-en was easily among the most lovely parks we saw in Tokyo. "Garden of the Six Principles of Poetry" is interesting, but if I were in charge, its name would be "Pretty Garden You So Pretty."
Locations on our Map: Komagome Station | Rikugi-en