Shibuya Crossing and Hachiko
A statue of the loyal dog named Hachiko stands eternally vigilant before Shibuya Crossing, an intersection which has become one of Tokyo's most iconic sights. When the lights turn red, the zig-zagging crosswalks are buried under an avalanche of footfalls as thousands of people try to cross simultaneously. It's hypnotic, especially when witnessed from above.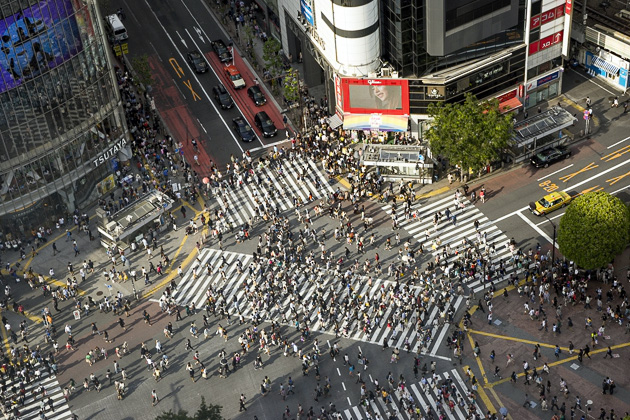 The first couple times we ran the gauntlet of Shibuya Crossing, it was for the thrill; we'd seen the intersection in movies and on TV, and it was fun to dive headlong into such a famous mess. Although the novelty soon wore off, we continued making frequent use of the intersection during our 91 days in Tokyo. The reason it's so busy, is that it's extremely practical. If you're in Shibuya, crossing this crazy street at least once is almost unavoidable.
Between Shibuya Station and the intersection, sits a statue dedicated to Hachiko, who lived from 1925 to 1938. Every single morning, this friendly Akita would walk to the station with his master, a professor at Tokyo University. And every afternoon, he'd be there waiting for his master's return. One day, though, the professor did not come back. He had suffered a brain hemorrhage while at school, and suddenly died. But Hachiko never lost faith. Every single afternoon, he went to the station to await the train which might finally bring his master home. And he did so until his own death, nine years later.
By demonstrating such unwavering loyalty, Hachiko became a celebrity. His stuffed remains can still be seen in Ueno Park's National Museum of Science, and his story was the subject of a well-received film by Lasse Hallström, starring Richard Gere. Hachiko has also been credited with rescuing the Akita breed which, at the time, had been in danger of disappearing. Strong, intelligent and brave, Akitas have since become the country's most popular dog. As a fun bit of trivia, the first two brought to America were owned by Helen Keller, who had visited Japan in 1937.
Today, Hachiko's statue is one of the most popular meeting-spots in Tokyo, because everyone knows where it is. It's fitting that Tokyo's most famous spot to wait for people, is next to the dog who became famous for waiting.
Location of Shibuya Crossing on our Map