The Edo-Tokyo Museum
After noticing the white hulk of the Edo-Tokyo Museum from atop the SkyTree, we wondered how even the world's biggest city could justify such a monstrous history museum. But when exhibits include full-scale reconstructions of theaters, houses and even a publishing house, the extra room comes in handy.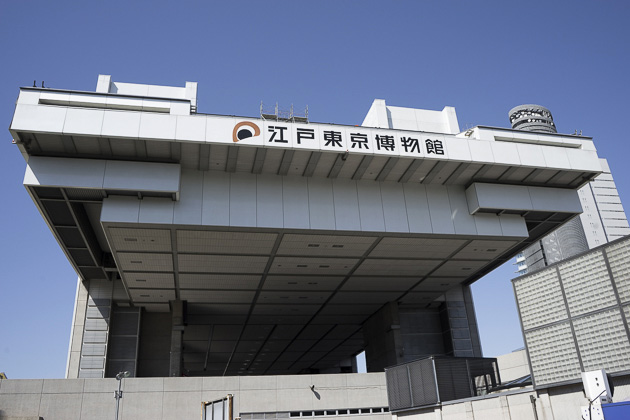 We had recently briefed ourselves on Tokyo's history, and felt prepared for the museum, which is adjacent to the National Sumo Stadium in Ryogoku. The saga of how an insignificant fishing village evolved into the megacity of Tokyo is a fascinating one, and the museum doesn't skip any of it. If you're the kind of person who feels compelled to read every scrap of information you come across, prepare for a long day in the Edo-Tokyo Museum.
From the days of Edo and its samurai, shoguns and daimyos, through the rapid modernization of the Meiji Era, the city's dizzying expansion, the catastrophes of fire, earthquake and war, and up into the modern day, the museum is absolutely comprehensive. For newbies like us, it was exceptionally instructive, but even those most knowledgeable about the city would surely learn something new.
You enter the museum by crossing a wooden replica of the original Nihombashi Bridge, which marked the Zero-Mile of Tokyo and was once the center of the city life. Beyond that are dioramas which replicate life in Edo. Like everything else in this museum, they're big. Let's just say binoculars are included so that you can take in all the detail. Further on, you can peer inside life-size replicas of eighteenth-century homes, and even a full-scale reconstruction of the Choya Newspaper Publishing Company's headquarters.
The museum continues through the days of the Meiji Empire, the industrial revolution, and into the modern era. It was all fascinating, but I became fatigued somewhere around 1930. However, I wasn't too tired to overlook one strange omission. Throughout the museum, there had been excellent English translations of every exhibit. Up until a particular story from World War II…
After bombing Pearl Harbor, Japan floated 9000 weaponized balloons over the Pacific Ocean, into the USA and Canada. One of the balloons succeeded in its deadly mission, killing five children and a pregnant woman in Oregon. This early form of terrorism is a captivating piece of history, which I hadn't yet known about, but it was almost the only exhibit in the museum which lacked an explanatory panel in English.
Despite that "oversight," we enjoyed our time in the museum, and came away with a much deeper understanding of Tokyo. It's big and time-consuming, but for those looking to learn about the city's history, the Edo-Tokyo Museum is the place to go.
Location on our Map
Edo-Tokyo Museum – Website