The Hamarikyu Detached Palace Gardens
A green oasis floating atop the murky waters of Tokyo Bay, the Hamarikyu Detached Palace Gardens will transport you to the days of the Shogun, as long as you manage to keep your eyes focused on the duck ponds and cherry trees, instead of the impenetrable row of skyscrapers on the horizon.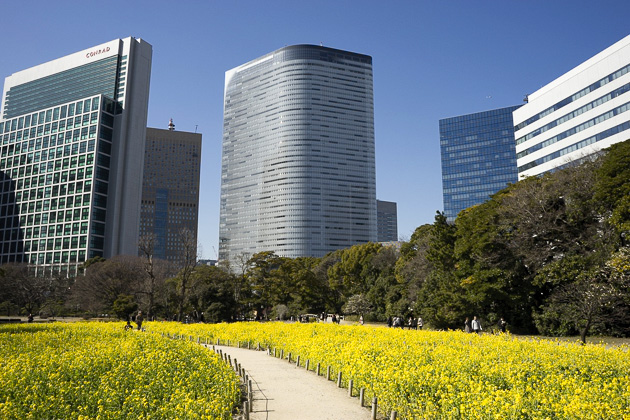 In 1654, the swamp which had occupied this space was filled in to create the private residence of the Shogun's brother, Matsudaira Tsunashige. With its multiple tidal ponds, the land would become the duck-hunting grounds of the ruling class, and was eventually opened to the public as a park in 1946. Throughout its history, Hamarikyo has managed to avoid the urban expansion that's transformed the rest of Tokyo.
We visited on a chilly morning in March, too early for cherry blossoms, but just in time for the fragrant yellow blooms of the rapeseed field. With wooden bridges spanning the small ponds, ducks bobbing sleepily on the water, and quaint tea houses serving matcha (powdered green tea) to weary walkers, it's hard not to enjoy the gardens. Even the ill-fitting backdrop of Shiodome's gargantuan steel skyscrapers somehow underline the beauty of Hamarikyo.
–Travel Insurance For Your Tokyo Trip