The Fisher Village of Tsukishima
Ever since the artificial island of Tsukishima was created in the middle of the Tokyo Bay in 1892, its western coast has been home to city fishermen and their families. Completely ringed in by canals, it feels nothing like the rest of Tokyo, with quiet lanes instead of busy boulevards, two-story houses instead of steel skyscrapers, and a sleepy sense of small-town tranquility instead of the exhausting bustle of perpetual commerce.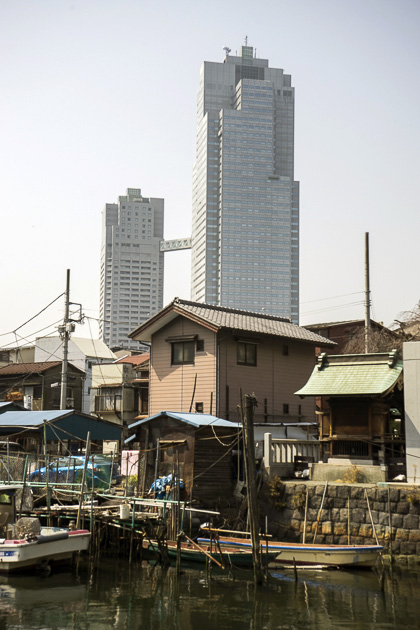 To access the fishermen's quarters of Tsukishima, we had to cross a canal by foot over a bright red bridge, a fitting way to enter such a picturesque neighborhood. Immediately, we found ourselves at the Sumiyoshi Shrine, dedicated to the gods of the sea. We joined a steady procession of locals on their way in, and watched as each performed the same rituals: washing their hands at the entrance fountain, standing in prayer before one or more of the shrines, throwing in coins as a tribute, and then clapping their hands twice after bowing. Though the Shintō religion of the Japanese was still a mystery to us, it looked to be an appealingly simple style of worship.
Leaving the shrine, we wandered around Tsukishima's languorous streets, peeking into shops selling candies and pickled vegetables, and watching a master chopstick-maker ply his trade. A local celebrity, Urusigei Nakajima produces heavy, perfectly-balanced octagonal chopsticks of rosewood and ebony. They're not cheap, but he claims they'll last a lifetime if cared for properly.
For lunch, we enjoyed an excellent meal of noodles and dumplings at a popular Chinese restaurant near the bridge where we had originally entered. As we were leaving, the hostess clued us in to a local secret, pointing out a large tree which seemed to sprout from the roofs of the neighborhood's tightly-packed houses. Squeezing our way down a shoulder-width alley, we found a tiny Buddhist shrine at the trunk of the tree, with an eighteenth-century Jizo image carved onto a smooth black stone. A plaque explained that the Jizo are protectors of children, delivering prosperity and health to their worshipers.
Locations on our Tokyo Map: Sumiyoshi Shrine | Chinese Restaurant | Hidden Jizo Shrine