The Jimbocho Book District & Crime Museum
If you like books, you're going to love the neighborhood of Jimbocho. Hundreds of new and used bookshops line the streets of this district, dedicated to everything from manga to art, architecture, fashion and travel. The majority of the books are in Japanese, but there are plenty of foreign titles, especially in English and German. Even if you're not in the mood to buy, just browsing can make for an entertaining afternoon. But there's almost no way that you're going to walk out of Jimbocho empty-handed.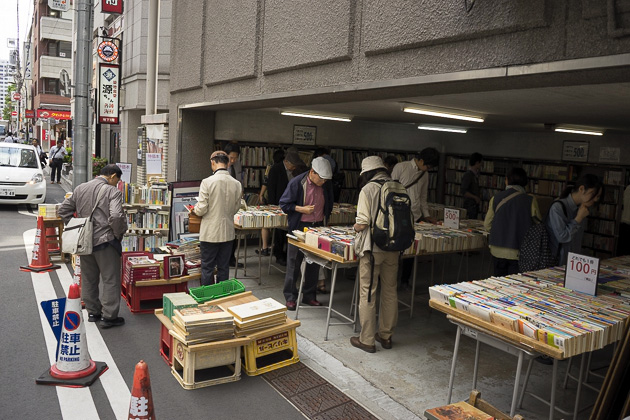 I first visited Jimbocho while Jürgen was out of town on a photography job. There could hardly be a better place to distract someone who's feeling lonely. I spent all afternoon poking around shelves packed with used English books. I flipped through some pervy anime titles and found mint-condition copies of Sports Illustrated from the 1960s. I went up to the second floor of a shop specializing in rare tomes, and lost track of time paging through antiquated travel books with names like The War for Quito and The Empire of Japon (which is apparently how we spelled it back then).
Later, I sat down in the Schwarzwald Cafe to pore over my new purchase: a book about sumo wrestling, written in 1950. Found across from the bizarre silver-egg of the Jimbocho Theater, the Schwarzwald has a wall covered in cuckoo clocks and excellent espresso. Very cute and comfortable, but the German-themed cafe reminded me of Jürgen. Oh, that's right. I was supposed to be feeling lonely, not having such a fun day out by myself.
Once Jürgen was back in town, we made a return trip. I had talked up Jimbocho, going on and on about the photogenic old bookshops, the narrow alleys, fun cafes and the restaurants. It can be dangerous to set such high expectations, but there was no need to worry in the case of Jimbocho. I knew he would love it, and he did.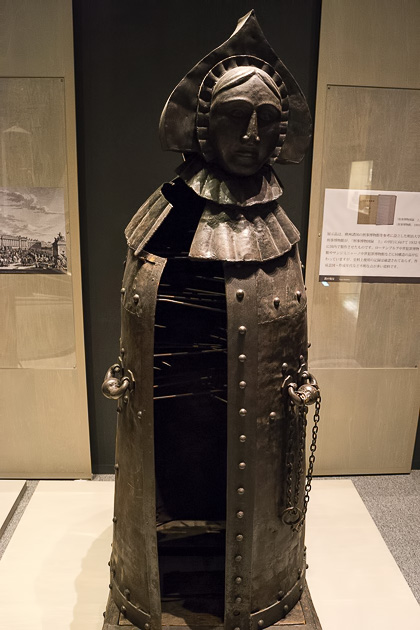 On the campus of the Meiji University, to the north of Jimbocho, we found a free museum in the basement of the Academy Common. It's mostly dedicated to the university itself, but includes a permanent exhibit about crime and punishment in the Edo era. The torture and execution devices on display include an iron maiden and a guillotine, along with even more vile equipment. For me, the worst was a pole around which a criminal would be tied, in a kneeling position. Heavy stone slabs would be placed atop his thighs, one-by-one, until his legs had been properly crushed.
Crime didn't pay in Edo. I'm firmly anti-torture, but even I can admit that the threat of leg-crushing must have been an effective deterrent. This was a fascinating and evil way to end our excursion to Jimbocho, which had immediately become one of our favorite Tokyo neighborhoods.
Locations on our Map: Jimbocho Station | Schwarzwald Cafe | Meiji University Museum
–Check out our Free Ebook Site