The Giant Pandas of Ueno Zoo
Japan's first zoo was established in Ueno Park, in 1882. Although its age is starting to show, the zoo is still a popular retreat in Tokyo. It's inexpensive, surprisingly large and, of course, there are those irresistible Giant Pandas.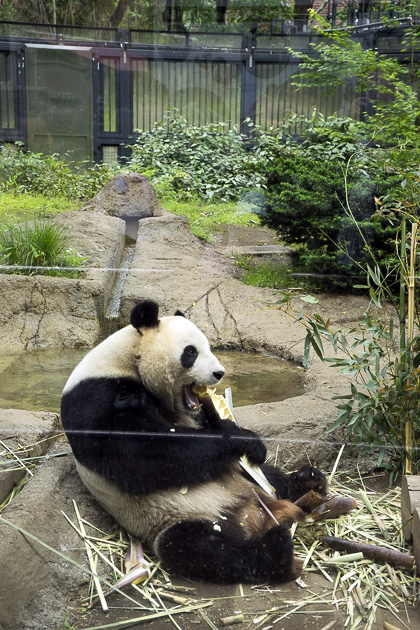 I was excited to get into the zoo, because I'd never seen Giant Pandas before. Lili and Shinshin would be my first, and we arrived right on time to see them do what they do best: eat. It was lunchtime, and the pair were just digging into a heaping pile of bamboo. A gift from China, they arrived in Tokyo in 2011, and have been Ueno's star attractions ever since.
The pandas are kept in pens directly at the entrance, and we feared that the rest of the zoo wouldn't be able to live up to such a grand opening. To tell the truth, it didn't. There are some other fun animals, including the most playful polar bear I've ever seen, and a couple of adorable red pandas, but nothing else was nearly as exciting as the Giant Pandas.
Also, Ueno is not among the most modern or comfortable zoos we've ever visited. That's to be expected, I suppose; it dates from an era in which humans didn't pay all that much attention to animal welfare. The pens are often woefully inadequate, particularly for some of the larger birds, and none of the animals have a lot of space to enjoy.
But Ueno Zoo is big, and if you can put your sympathy on hold, you could easily spend hours here. Just the opportunity to experience wildlife in the middle of the big city is worth something, and besides, it's almost impossible to pass up the chance to see Giant Pandas like Lili and Shinshin.
–So Many Cute Panda Things From Japan