The Nikolai Cathedral in Kanda
In many other countries, the Nikolai Cathedral would hardly merit a second glance. But in Japan, the Byzantine-style construction is definitely noteworthy. Built in 1891, this Russian Orthodox church set atop a hill in Kanda is one of Tokyo's stranger sights, just because it exists at all.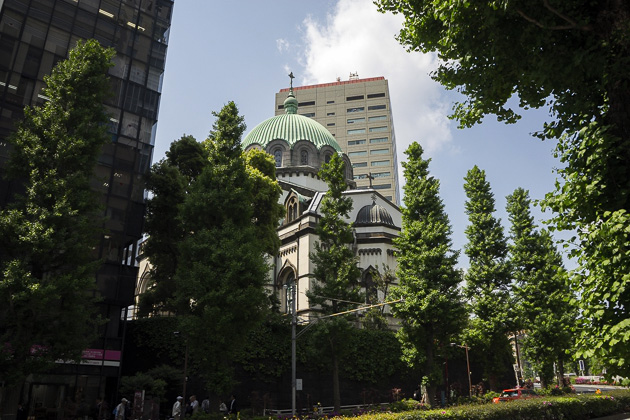 So what exactly is a Russian Orthodox Church doing in one of the choicest locations in central Tokyo? The story dates to the 1860s, when Ivan Dimitrovich Kasatkin decided to bring his religion from Russia to the eastern islands of Japan. After landing in Hokkaido, he set about learning the language and had soon converted three people to Christianity, one of whom was both a samurai and Shinto priest. The future Saint Nikolai didn't stop there. Moving to Tokyo, he snapped up this property in Kanda and erected his church. By the time he died in 1912, he had managed to convert about 40,000 people.
We visited the church during a walk around the neighborhood of Kanda. You can step inside, but you can't walk around freely. Neither the architecture nor interior artwork are all that memorable, and the stunning view the cathedral must have once commanded has long been obscured by neighboring skyscrapers.
Still, it's fun to see a building so discordant with its surroundings, and a visit to the Nikolai Cathedral provides a convenient excuse to check out the rest of Kanda, which is packed with great restaurants and shops.
–Subscribe To Our Travel Videos Here