The Arakawa Tram and the Paper Museum
The streetcars which once crisscrossed Tokyo have almost completely disappeared, made obsolete by the faster underground metro. But in the northern neighborhood of Minoya, we found a lonely tram which has survived into the present day. The Arakawa Line runs to Waseda via Asukayama Park, where we disembarked to visit a museum dedicated to paper.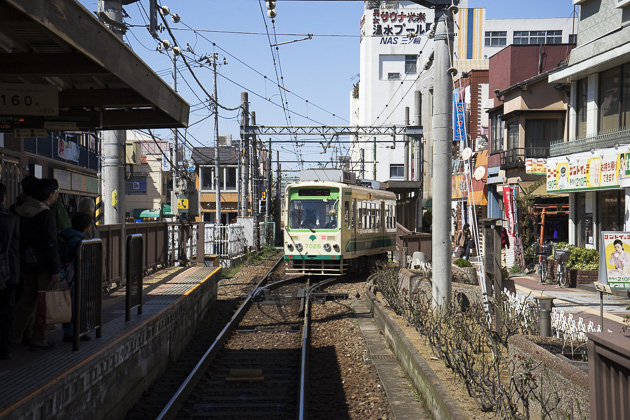 Minowa, where the tram begins, borders the former red-light district of Yoshiwara. From the days of Edo right up until prostitution was finally banned in the 1950s, Yoshiwara was Tokyo's most infamous neighborhood, where both female and male prostitutes walked the streets. But those merry days are long gone; during our short time in Yoshiwara, we couldn't detect even the slightest whiff of the illicit. In fact, this was the sleepiest and most nondescript area of Tokyo we'd seen yet.
Tokyo's Toden tram system made its debut in 1903, but Japan was modernizing at a lightning pace and the streetcars had vanished within a few short decades. By 1974, only the Arakawa Line was left and there were plans to close it, as well. But the citizens of Minowa fought bitterly for their beloved tram, managing to keep it in operation.
Judging by the number of people crammed inside the car with us, it appears that citizens were wise to fight for the Arakawa Line. Forty years later, it's apparently still useful. We had shown up expecting a "nostalgic" ride, such as that offered by the antiquated cars of Istanbul, but no: this tram is used by regular locals for entirely practical purposes.
We got out at Asukayama Park, a favorite spot for cherry blossom viewing, in order to visit the Paper Museum of Tokyo, which introduces the history of the industry in Japan. This was about as interesting as it sounds, essential only for paper-enthusiasts. But we lucked out during our visit and had the chance to meet Takashi Ueda, a master of kinkarakami, or gold-embossed wallpapers. The museum was hosting a retrospective in honor of his eightieth birthday, and he was there to shake hands and answer questions.
In the basement of the museum, we had the chance to practice our paper-making skills in a workshop. It was an activity meant for small children, but we were encouraged to participate. The instructions were all in Japanese, so we had difficulty following along, much to the exasperation of eye-rolling toddlers, who weren't shy about correcting our many mistakes. We did manage to craft a couple flimsy, uneven postcards, but I think we'll be leaving paper-making to the masters.
Locations on our Map: Arakawa Minoya Terminal | Paper Museum