The Golden Dragon Dance of Senso-Ji
Nakamise-dōri, a pedestrian shopping street which leads directly to the temple of Sensō-ji, is always busy, but today it was packed. All eyes were cast upwards as a 60-foot dragon wound its way through the air, above the crowd. It was March 18th and Sensō-ji was celebrating the Kinryu no Mai, or Golden Dragon Dance.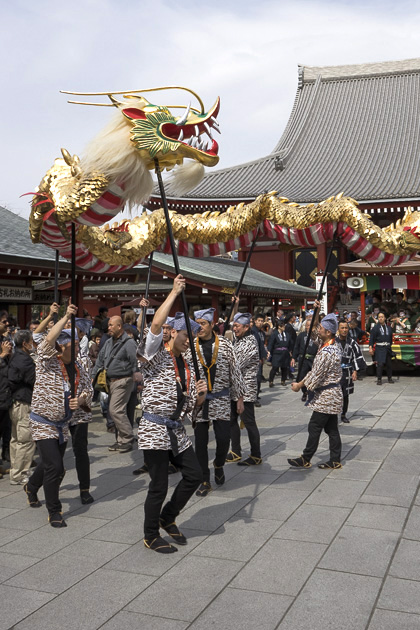 Way back in the year 628, two brothers found an icon of the Boddhisattva Kannon while fishing in the Sumida River. They were non-believers and threw the icon back into the water. Soon thereafter, it appeared once more in their nets. They discarded it again, and when the relic showed up a third time, they figured that it must be some sort of sign.
They went to their chief, who listened intently to the story and decided to honor the miraculous icon by building a new temple, the first in the village which would later become Tokyo. When the figure was enshrined, Kannon herself was said to have descended from the sky in the form of a golden dragon.
It's this legend which the annual Golden Dragon Dance seeks to recreate. We followed the weaving creature down Nakamise-Dōri and into the courtyard of the Sensō-i, where the real dance would begin. Seven younger guys holding sticks managed the dragon's twisting, fluid motions, while an older man wielding a staff pranced in front of the beast, shouting at it. I'm still unsure whether he was supposed to be commanding, communicating with, or fighting the dragon. Regardless, it was an entertaining show.