Across and Above Lake Ashinoko
We had enjoyed a deeply restful night of sleep at the Mount View Hakone ryokan hotel in Sengokuhara, and awoke eager to tackle our second day in the mountainous Hakone region southwest of Tokyo. After an early breakfast, we were at the northern shore of Ashinoko, a picturesque crater lake nestled in the shadow of Mount Fuji.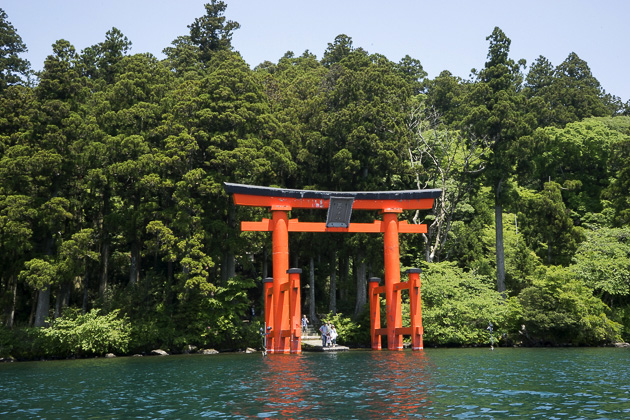 Scenic tours leave frequently from one end of the lake to the other, and we joined the earliest departure, at 9am. Lake Ashi (as it's normally referred to) is known for its views of Mount Fuji, but sadly it was a hazy day and we could barely make out the flat, snow-covered top of the famous mountain. And as the day progressed, clouds would roll in, obscuring it completely.
But the boat ride was still beautiful, and within no time we had reached the southern shore. We relaxed at a cafe with an outdoor foot bath, and then rented a swan boat in order to get a better view of a huge orange torii along the lakeside. After climbing a hill to the Hakone Temple, where a wedding was underway, we walked almost a mile to the Hakone-en Park, to board a gondola that would take us to the summit of Mt. Komagatake. It's a good thing we had slept so well, because this was turning out to be a busier day than we'd anticipated.
From the top of the mountain, we had a tremendous view of the lake, but still couldn't see Mount Fuji. In fact, the clouds were turning a distressing shade of black. While we walked around, a speaker from the retro-looking gondola station blared out something in Japanese. Fifteen minutes later, after the lightning and thunder had started, we realized what the loudspeaker message must have been: due to the storm, the gondola service was suspended. Everyone else had naturally heeded the last call, leaving us alone at the top of the mountain with the staff and a couple other non-Japanese-speaking stragglers.
This could easily have turned into a disaster, but the storm was brief and within an hour we were able to descend. The wait even turned out to be rather fun… we were never rained on, and were able to enjoy an impressive lightning show over the lake.
We took a bus back to Odawara, where we boarded the train to Tokyo. This had been a short two-day vacation, but our escape from the capital was just what we needed. After three months in Tokyo, you start to forget what a forest looks like, or how beautiful a lake like Ashinoko can be.
Locations on our Map: Scenic Boat Departure | Hakone-en Torii | Mount Komagatake
–Great Gifts And Toys From Japan