The Mount View Hakone Ryokan Hotel
The forests, lakes, mountains and sheer natural beauty of the Hakone region are all great, but to tell the truth, we were most excited about the hotel which had invited us to stay for the night. The Mount View Hakone is a traditional Japanese ryokan in Sengokuhara, and we planned on taking full advantage of its baths, food, and relaxing atmosphere.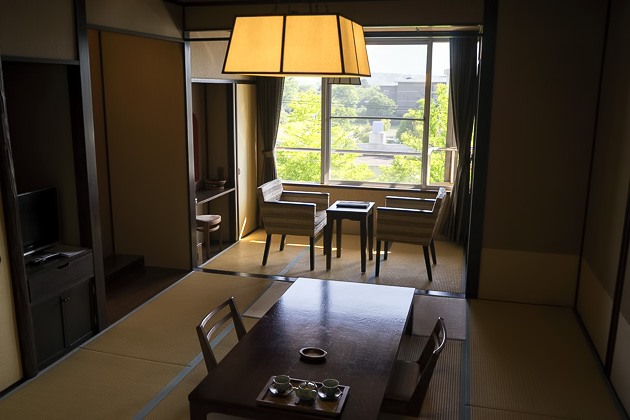 After checking in, we were shown to our suite. This was exactly what I imagined a ryokan to look like: the floor covered with tatami mats, the decoration minimalist, the furniture comfortable, and the futon bed large and inviting. We were each provided a yukata, or Japanese robe, which we were meant to wear throughout the extent of our stay in the ryokan.
We had scheduled both a private bath and a full kaiseki dinner in the evening, but now had a few hours to stretch out and relax in our suite. After three months in Tokyo, it was wonderful to be somewhere spacious and so blessedly quiet. For perhaps the first time since we had arrived in Japan, we had no urgent plans driving us forward, no work to be done, no special sight that had to be visited. We were able to enjoy simply existing for awhile. I got into my yukata, stretched out on the tatami floor and fell asleep.
Soon enough, dinner time rolled around and, after shuffling downstairs in our robes and slippers, we were shown to our private dining room. Our meal had already been laid out onto the table, and I nearly burst out laughing at the sight of it. So much food! This was going to be a struggle, but one I'd enjoy every bite of. Sushi, soba, miso soup, a beef hot pot, marinated octopus, rice and much more, the meal was like a Greatest Hits collection of all our Japanese favorites. (Well, the Greatest Hits… plus a giant, slimy black snail).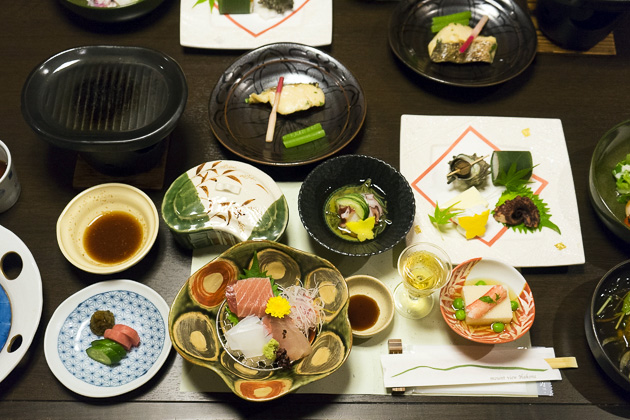 When we finally stood up from the table, our stomachs were bursting, and it was an effort to waddle down the hall to our next appointment: a nigori-yu, or private bath, in the cool evening air. We stripped down, and stepped outside to reach a bath that looked out on a garden of bamboo. The bath was already filled to the brim with revitalizing volcanic water straight from the hot springs of the surrounding mountain. The water is apparently good for muscle tension and the endocrine system.
We fell asleep early, and awoke the next morning fresh as newborn babies, ready for another big day. First, though: breakfast. Western options are available, but we chose the Japanese set, and were served another massive meal of delicious cuisine.
As we removed our yukatas and put back on our boring Western-style clothes, I felt nothing but contentment. Our stay in the Mount View Hakone had been exactly what we needed. Ryokans are normally expensive, but the prices for rooms and baths in this hotel are down-to-earth. So if you're planning a trip to the Hakone region and want to experience a traditional Japanese lodging, this is a great choice.
Location on our Map
Mount View Hakone – Website