Escape from Tokyo: A Trip to Hakone
On our last weekend in Japan we abandoned Tokyo and headed for the hills of the Hakone National Park, in the shadow of Mount Fuji. Centered around a large crater lake, this is an area of hot springs, spas, traditional hotels, forests and mountains. It was the perfect antidote to the Big City Sickness with which we'd slowly but surely become infected.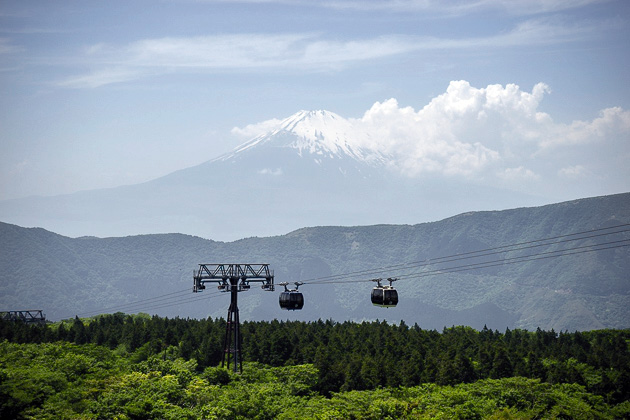 In order to arrive at the Hakone region, we made use of every transportation method ever conceived by man, with the sole exception of Segway. We had made a reservation at a traditional ryokan hotel in the mountain town of Sengokuhara, and the day before leaving, I sat down to the considerable task of figuring out the directions:
1. Subway from Sumiyoshi Station
2. Bullet Train from Tokyo Station
3. Funicular Rail from Odawara Station
4. Mountain Railway from Hakone-Yumoto Station
5. Cable Car from Gora Station
6. Ropeway from Sounzan Station
7. Bus from Togendai
This sounds hopelessly complicated, but it was a lot more straightforward than I had feared. Though there are a large number of individual steps, the road to Hakone is firmly established, and we would step off one train, ropeway, or cable car, directly onto the next. From Odawara, the route climbs steadily into the hills, into increasingly beautiful nature, necessitating ever more extreme modes of transportation.
Getting there, as the saying goes, is half the fun. But in Hakone's case, it might be more like 70%. At one point along the ropeway, as you're cresting the hill before Owakudani Station, Mount Fuji suddenly appears, impossibly large on the horizon. Its profile is among the most famous in the world, and the view from our suspended car was unforgettable.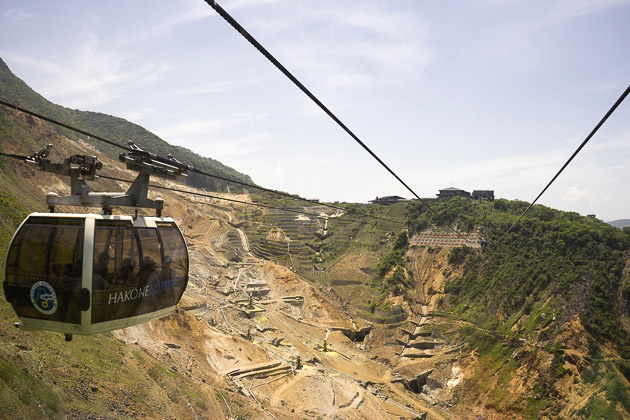 Midway along the ropeway is Owakudani, which is an area of geothermal activity. We disembarked to explore the hissing springs and "enjoy" the stench of sulfur. Owakudani is known for its hot spring hard-boiled eggs, whose shells have turned a beautiful color of purple-black, due to the mineral properties of the water. The area reminded us a lot of our time in Iceland, albeit with sixty thousand times the people. Not even in Hakone, it seems, can one rid oneself completely of Tokyo's crowds.
Luckily, Japanese groups tend to stick tightly together, and if you can manage to peel yourself away, finding solitude isn't impossible. Instead of rejoining the lines waiting for the ropeway, we walked from Owakudani to Ubako Station on a wooded path leading down the hill, and were the only ones doing so. Near the path's end, we encountered a quiet spa with an adjoining temple, seemingly forgotten in the woods. There was nobody here, so we sat down in front of the main shrine and made a snack of our blackened sulfur eggs.
The ropeway then continues to Togendai Station at the northern shore of Lake Ashi, a large lake formed by volcanic explosions. A boat ride sounded tempting, but we decided to leave it for the next day. This had already been a long journey, and we were anxious to arrive the ryokan where we'd be staying the night…
Locations on our Map: Odawara Station | Owakudani Station | Quiet Temple/Spa in the Woods | Togendai Station (Lake Ashi)