Akasaka
Apart from the Hie Shrine, the business district of Akasaka doesn't have much in the way of historic sights for tourists. But the streets which surround the metro station are fun and packed with good, cheap places to eat, and the neighborhood is so central that we visited rather frequently.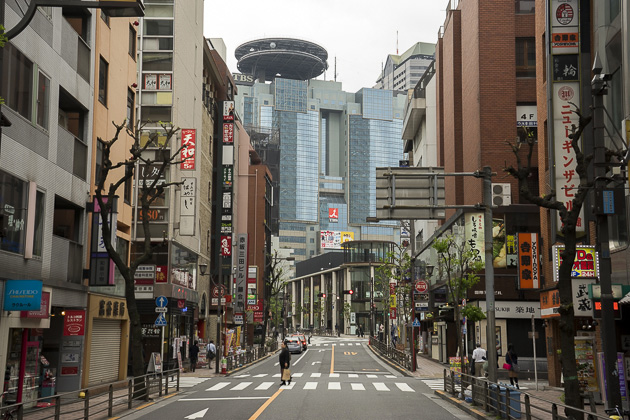 A set of three parallel streets, beginning at Akasaka Station and running north to Akasakamitsuke Station, make up what used to be a bustling entertainment district populated by geishas and favored by the bureaucrats who work in the government offices of neighboring Nagatacho. We never saw a geisha during the time we spent in Akasaka, but the focus remains squarely on entertainment, with hostess clubs, pachinko parlors and arcades joining restaurants that run the gamut from high-end to cheap.
The starting point for the district is a gigantic complex of stores and business offices with the absurd name of "Akasaka Sacas." The TBS Broadcasting Center is based in the Sacas, which opened in 2008, along with the usual mind-numbing array of restaurants and shops.
The neighborhood is bordered to the north by a large park, which holds the Akasaka Detached Imperial Palace. We can vouch for this park's size, because we walked all the way around it, searching for an entrance, before straggling up to the gate on the northern corner. Turns out, there is no entrance, and we probably should have figured on that. After all, this park is still home to members of the Imperial family. Although you can't enter, there's a decent view of the Versailles-inspired palace from the gate.
Locations on our Map: Akasaka Sacas | Akasaka Detached Palace