Ameyoko Shopping Street
On the eastern side of Ueno Park, in the streets around the elevated tracks of the train station, you'll find the Ameyoko Shopping Street: a great place to come when you're in the market for… well, anything. Fish, veggies, shoes, leather jackets and the discrete companionship of attractive ladies are just a sample of what's for sale.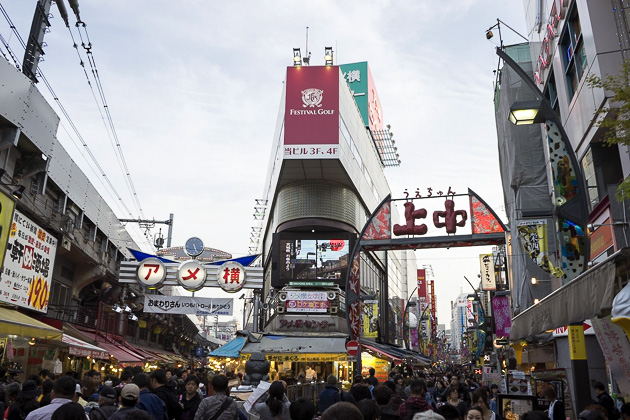 Ameyoko is a fun place for those who enjoy being crushed half to death. When we visited on a Saturday evening, the density of the crowd was approximately that of a neutron star. As the market came into view, we were captured by its gravitational field and pulled helplessly toward the nucleus. Seconds ago, we had been in the safety of Ueno Park, but now we were caught in the dead center of Ameyoko, being jostled and shoved from left to right, blinded by the neon and deafened by the shouting of the vendors.
The true name of the market is Ameya-Yokochō, which means "Candy Shop Alley" and indicates the original focus of the area. Today, it's been abbreviated to Ameyoko, and the mercantile focus has expanded. Over 500 shops compete for business, but there are easily enough customers to go around. We found ourselves darting into stores simply to take a break from the crowd.
In Japanese, Ameyoko's name also works as a pun on "American Market." In the post-war years, this was a black market where many of the surplus American military goods could be found.
We had just been enjoying the relative peace of adjacent Ueno Park, so Ameyoko was a shock to the system. Luckily, we were in the right mood, and found it exhilarating. There's so much to see, and the food and clothing being sold here are cheap in comparison to other Tokyo markets. I'm glad I don't have to do my day-to-day shopping there, but Ameyoko was worth experiencing at least once.
–Online Shop For Japan Pop Culture