Ikebukuro's Sunshine City
It's best to take Sunshine City's name at face value. And I don't mean that it's filled with sunshine, but that it's truly a city of its own. This enormous complex spreads across four buildings, including the Sunshine 60, which became the tallest building in Asia upon its completion in 1978.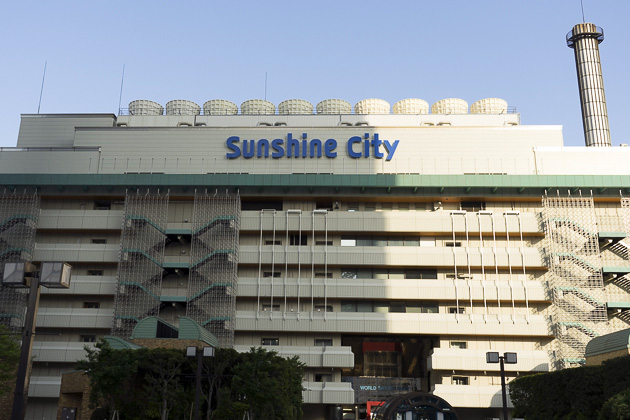 You could fly into Tokyo, take the metro to Ikebukuro, stay in the Sunshine City Prince Hotel, go shopping the in the Alpa mall, check out the Ancient Orient Museum, and entertain yourself at the Namja Town arcade. That's a busy schedule, and you haven't even left Sunshine City. In fact, you've barely scratched the surface of what this complex has to offer.
Over the next few days, you could shop in a second giant mall (the Alta), admire the view from the observation deck atop the Sunshine 60, check out the recently-refurbished aquarium, go to the planetarium, catch a show at the Sunshine Theater, play around at another arcade/theme-park called J-World, and choose your meals from around 90 restaurants. What a great vacation you've had in Sunshine City! (Next time you'll have to check out this other city called Tokyo, which I've heard is okay, too.)
Jürgen and I experienced a mere fraction of Sunshine City's attractions. After getting completely lost among the shops on the lower floors, we made our way to the World Import Mart Building, which hosts the two indoor theme parks, Namja Town and J-World. At the top of this building is the aquarium, and below that, a salon dedicated to Go, crowded with serious-looking guys bent over game boards.
We decided to entirely skip the Bunka Kaiken building, along with its Museum of the Ancient Orient, and instead wandered across the Rooftop Sunshine Plaza, on our way to the Sunshine 60. Here, one of the the world's fastest elevators whisked us up to the top floor.
Considering the admission price, this isn't among the better observation decks in Tokyo. It was crowded, and you're not allowed close to the windows, except at a few points which are usually packed with people. But still, we enjoyed Sunshine City, another completely overwhelming place in the world's most overwhelming city.
–Order Japanese Snacks From Here