The Modern Side of Yokohama
After dedicating the morning to Yokohama's historic harbor district and grabbing lunch in Asia's largest Chinatown, we moved farther north up the bay and spent the afternoon in the more modern part of town.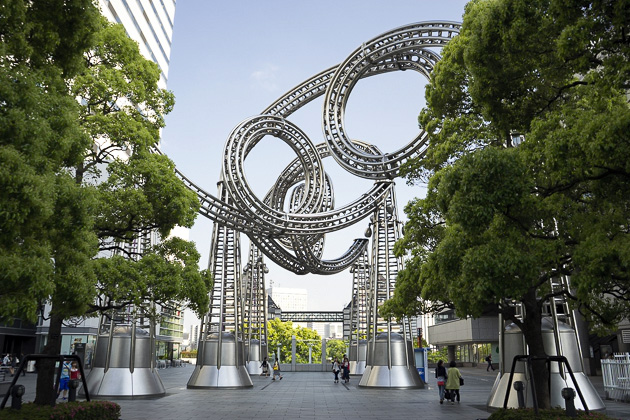 The 1980s were an exciting time for Yokohama. At the beginning of the decade, it surpassed Osaka in population to become Japan's second-largest city. In 1983, work began on Minato Mirai 21, a sprawling complex built on reclaimed land that was destined to become the city's new business and entertainment district. And in 1989, Yokohama unveiled both the world's tallest Ferris wheel (the Cosmo Clock) and the 860-meter Yokohama Bay Bridge.
Our afternoon began at the Red Brick Warehouses, located across from Osanbashi Pier. These twin buildings were built in 1905, and managed to survive the disasters that leveled the rest of the city, thanks to the durable material with which they were constructed. Today, they host upscale shops and provide a unique setting for special events.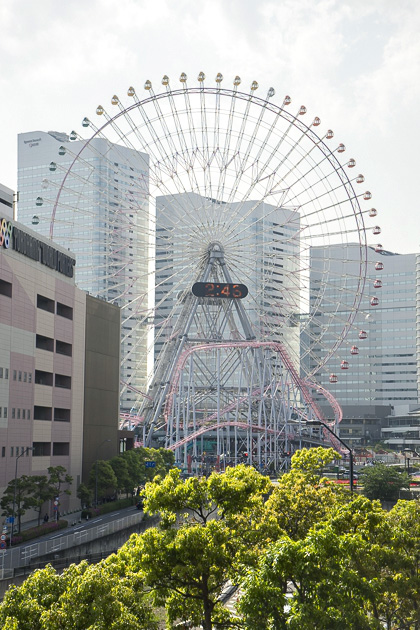 From here, it was a short walk to Cosmo World, home of the aforementioned Cosmo Clock. The amusement park is free to enter and we wandered underneath a roller coaster to watch a steady procession of screaming adolescent girls splash down the water log ride. (Amusement parks in Japan seem to be popular with screaming adolescent girls.) We considered riding the Ferris wheel, but the sky was turning a strange color, so we decided to keep our feet on the ground.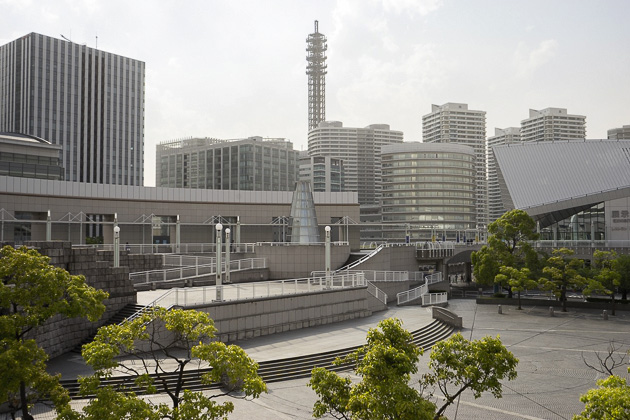 Sure enough, as we crossed a bridge into the Minato Mirai 21 district, an astounding wind storm kicked up. I hadn't felt wind like this for a very long time, nearly strong enough to knock us both over. Umbrellas and hats were flying, bikes were being blown over, and hairstyles were being ruined all around us. This was chaotic fun for a couple minutes, but made it impossible to appreciate the architecture of this modern urban district, whose name means "Port of the Future in the 21st Century." Soon, we were running for shelter in the Landmark Tower.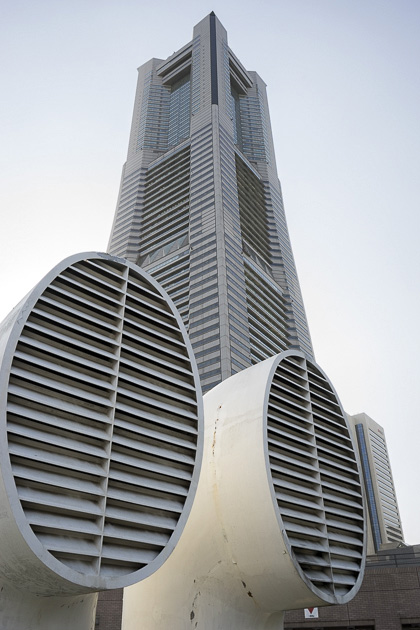 Until being bested by Osaka's Abeno Harukas in 2014, the Yokohama Landmark Tower was the tallest building in Japan. Completed in 1993, the tower boasts an observation deck on its 69th floor, and elevators that reach speeds of 28 mph.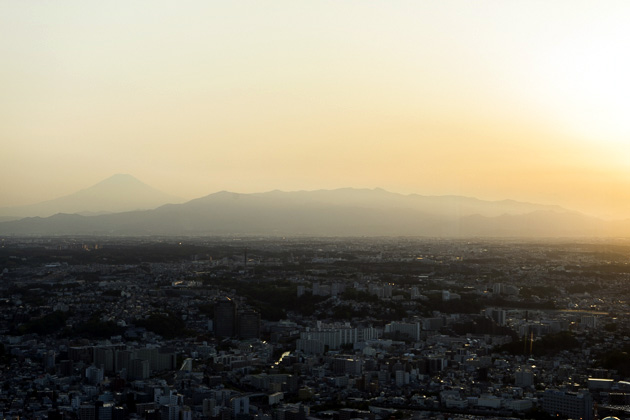 Almost two months after having arrived in Japan, it was from atop the Landmark Tower that we finally saw Mount Fuji. The wind storm had removed some of the smog, revealing the famous flat-capped mountain on the horizon. We sat down in comfortable chairs facing west, ordered wine, and stayed put as the sun went down. It was the perfect way to end an exceptional day in Yokohama.
Locations on our Map: Red Brick Warehouses | Cosmo Clock | Landmark Tower