Outside of China, the largest Chinatown in Asia can be found in Yokohama. Hundreds of restaurants and shops are packed into this colorful and boisterous neighborhood, along with a multitude of gates and temples, and (if you're visiting at lunch time) approximately 34 billion students looking for a cheap meal.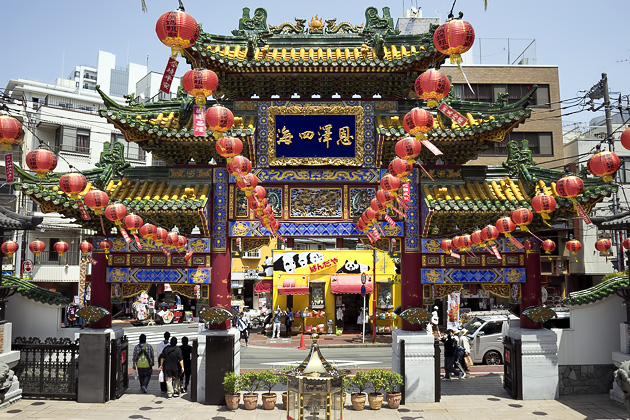 Yokohama's Chinatown feels like a theme park, with large gates clearly defining its borders and a festive atmosphere reigning in its pedestrian-only streets. This isn't a normal neighborhood with residents quietly going about their lives, but a boisterous place where people go to eat and have fun. Chinatown is a completely different beast from the rest of Yokohama, which we had found to be quiet and relaxing.
China and Japan haven't always enjoyed the rosiest history of friendship, and the fortunes of Yokohama's Chinatown have waxed and waned with the tension between the two. The neighborhood was established when Japan opened its borders in 1859, and grew rapidly until the Sino-Japanese War of 1937. Relations stabilized after WWII, with Japan's embrace of pacifism, and today Yokohama is home to thousands Chinese expatriates, most of whom are Cantonese.
Apart from admiring the neighborhood's elaborate gates and its temples, the main thing to do in Chinatown is eat. There are so many options, it's hard to know where to start. You can pig out on street food like dumplings, fried chicken, pork buns, chestnuts, rice cakes and kebabs. Or you can choose a lunch special offered by one of the hundreds of restaurants. Spicy Szechuan tofu dishes, Beijing duck, Shanghai-style fish, or an infinite variety of noodle and rice meals.
Overwhelmed by choice, we finally sat down in a random restaurant which looked popular, and enjoyed a delicious multi-set meal for about ¥800. Don't ask me to share the restaurant's name or location, because we were so disoriented by lunch time that I remember neither. Anyway, I have a feeling that any place you eat in Chinatown would be excellent.
Our trip to Yokohama was turning out to be a lot more interesting than expected, and Chinatown was the day's biggest surprise. Even if you have to skip the rest of the city, it's worth the short journey from Tokyo just to see this neighborhood and enjoy some authentic Chinese cuisine.
Location of Yokohama's Chinatown on our Map