The Taimeiken Restaurant and Kite Museum
Between the shopping mecca of Coredo Mall and the Tokyo Stock Exchange, we came across a quaint museum which feels completely out of place in modern Nihonbashi. The small and cluttered Kite Museum is hidden away without fanfare above Taimeiken, one of central Tokyo's favorite restaurants.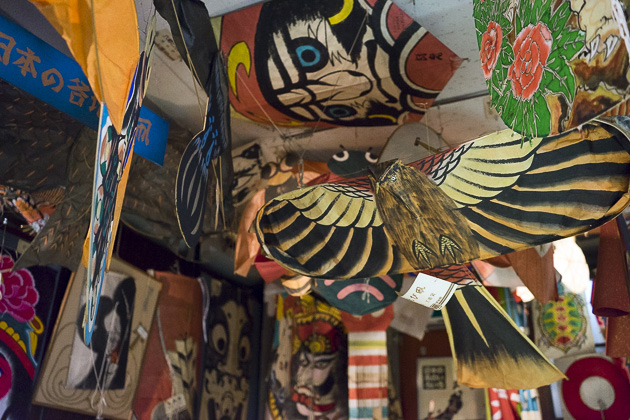 Kites were introduced to Japan in the eighth century by Buddhist monks from China, and have been a popular pastime ever since. At first, they were exclusively for religious festivals but soon had caught on among builders, who used them to hoist materials. Eventually, the general public realized they could be flown for fun. Today, each region of Japan has developed its own style of kite. The most traditional have spines made of bamboo, sturdy paper produced from a specific kind of mulberry tree, and hand-painted designs with vibrant colors.
Shingo Modegi, the owner of the Taimeiken Restaurant in Nihonbashi, was a lifelong kite enthusiast. By 1977, he had amassed thousands of models from around the world, and decided to open up his collection to the public. Thus was born the world's first kite museum, found on the fifth floor above his restaurant.
Visiting the museum makes you feel as though you're walking through the disorganized apartment of an eccentric old specialist… which, I suppose, is exactly what you're doing. Hundreds of kites of all shapes and sizes line the walls, hang from the ceiling, or rest in glass cases. There are ancient models with paper so fragile it wouldn't survive a light breeze, complicated kites resembling sailing ships, carp kites, samurai kites and, of course, plenty of dragon kites.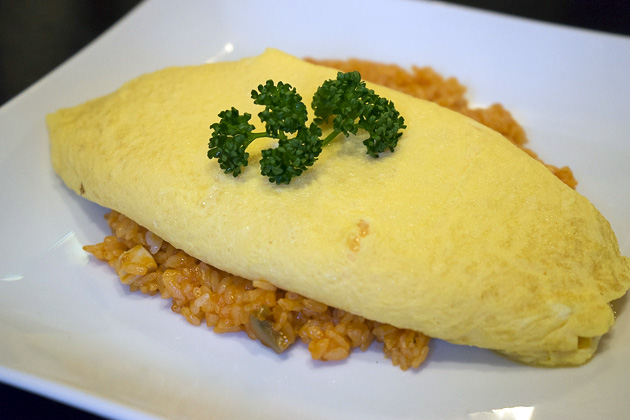 After touring the museum, it makes sense to grab lunch downstairs in Taimeiken, famous for its omurice. Don't worry if there's a long line, and there almost certainly will be, because the place is large and the queue advances quickly.
Omurice is, as you might infer from its name, an omelette packed with rice; a meal inspired by western breakfasts. The house specialty is the "dandelion," or tampopo omurice, which is a steaming omelette served atop chicken-fried rice. You're meant to immediately cut open the softly-cooked eggs, allowing their bright yellow yolks to spread out and sink into the rice. It's a dish both lovely and delicious, especially when topped with ketchup. That might sound strange, but it's the suggested condiment, and goes perfectly with the dish.