The Sanja Matsuri in Asakusa
The best known of Tokyo's Shinto festivals is surely the Sanja Matsuri, based in and around the Sensō-ji Temple. For three days in late May, the streets of Asakusa transform into a wildly drunken party zone. We braved the throngs on Sunday, which is the festival's main day.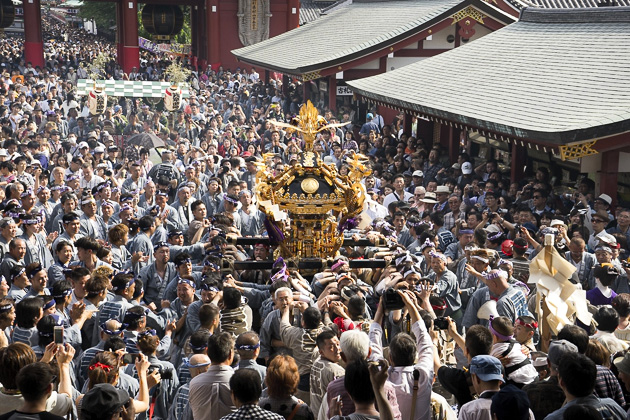 The Sanja Matsuri is among the most joyfully wanton religious parties we've ever seen. People don't come to solemnly observe scripture, but to go nuts in celebration of their culture. The action centers around the Sensō-ji, Tokyo's oldest temple, and its three movable shrines. On Sunday morning, these shrines are brought out of the temple, and groups representing various neighborhoods fight (sometimes violently) for the honor of carrying them.
We arrived in Asakusa shortly after lunch, by which time the streets were already packed with revelers, a good percentage of whom were completely wasted. And we immediately took note of the outfit for men: a short robe over white cloth diapers. To walk around like that, a certain level of inebriation surely helps.
The Sanja Matsuri is meant to honor the three founders of the temple: the fisher brothers who discovered the icon of the Bodhisttava Kannon in the river, and the lord who enshrined it, thus establishing Sensō-ji in 628. But for all practical purposes, it's just an excuse to have a good time. The crowds around the temple ebb and flow with the appearance of a shrine… whether it's one of the main three, or one of the many smaller shrines also making the rounds.
The festival is fun, but overwhelming. We followed the crowds, watching sweaty, shrine-carrying groups of guys and girls fight their way down the street. Even kids got in on the act, hoisting their own miniature shrines. We walked toward the temple and saw geishas playing musical instruments, as well as a group of people wearing traditional wooden masks. And after a couple hours, we'd had enough. This is largely a locals-only event, where the celebrating is done by groups of neighbors and friends, and we were neither Japanese nor drunk enough to get into the spirit. It's an amazing experience, though, and if you happen to be in Tokyo on the third weekend in May, one that shouldn't be missed.