Ningyocho – The Doll Town District
Had we not lived nearby, it's unlikely that we would have visited Ningyocho even once. But although this former pleasure district doesn't have any of Tokyo's must-see attractions, we returned repeatedly, drawn by its restaurants, traditional shops and low-key, residential atmosphere.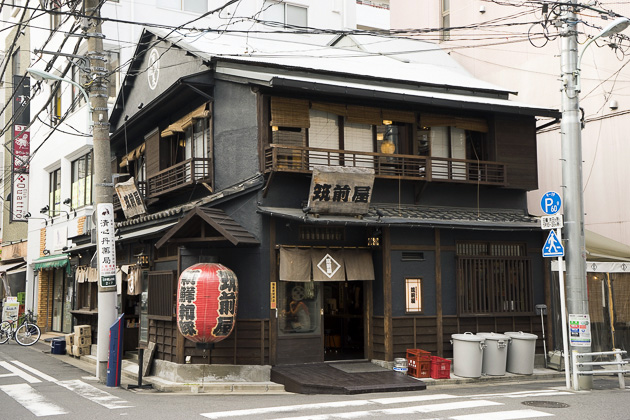 Located where Nihonbashi meets the Sumida River, Ningyocho attempts a tricky balancing act, blending equal amounts of modern and traditional Tokyo. Emerging from Ningyocho Station, you might as well be anywhere in the city, looking up at towering office buildings and dodging hectic businessmen racing toward the fastest possible curry lunch. But with a turn onto Amazake Yokocho-dori, the ambiance changes entirely, with historic restaurants, craft shops, and butchers that cater to teetering grandmothers who've probably lived in Ningyocho since before the war.
Ningyocho is built on former swampland which was filled in during the seventeenth century after Edo became the seat of the shogunate. A considerable distance from the castle, the neighborhood was populated by the working class and licensed by the city as a pleasure district. The arts flourished, particularly Bunraku (puppet theater), and even when the entertainment was officially moved north to Yoshiwara, the puppet-makers stayed, providing Ningyocho its name. "Ningyo" is Japanese for "doll."
Our apartment was two subway stops from Ningyocho, and we could be there in literally ten minutes, so it became one of our favorite haunts. This is a neighborhood which charms immediately, and improves with each visit. We always discovered some great new shop; the best were easy to identify because of the lines stretching out of the doors. And when we had no other plans, Ningyocho is where we came for lunch, whether at a cheap fast-food joint along the bustling main street, or for a nicer meal around Amazake Yokocho-dori.
There are no longer many doll-makers in Ningyocho, but traces remain of the neighborhood's former specialty. Most conspicuous are two mechanical clock towers near the subway station. Every hour between 11am and 7pm, these clocks come to life, raising their curtains for automated shows in which dancing dolls pay tribute to the firefighters of Edo, and to the tradition of rakugo storytelling. Ningyocho is also home to the Meiji-za, a popular kabuki theater near Hamacho Park. Though it's located inside a modern building, this theater has been around since the 1870s and has become famous for the (relatively) fast pace of its kabuki performances.
Locations on our Map: Ningyocho Station | Amazake Yokocho-dori | Hamacho Park | Meiji-za Theater
–Our Most Popular Travel Videos On Youtube