For 91 Days
we lived in Tokyo, the world's biggest city, and it went by in a flash. There's no way to experience everything this mega-city has to offer, but we made a good go of it! Whether you're planning your own journey to Tokyo, or are just interested in seeing what makes it such a special place, our articles and photographs might help you out. Start
at the beginning
of our adventures, visit our
comprehensive index
to find something specific, or choose one of the articles selected at random, below:
Dinner Behind Bars at Alcatraz E.R.

It's safe to say we've never dined in an atmosphere remotely similar to that of Shibuya's Alcatraz E.R. The name says it all: this theme restaurant is meant to emulate the experience of eating inside the blood-spattered emergency room of a high-security prison. Have I mentioned that Tokyo is a little strange?…
May 15, 2014
Sensō-ji Temple

Tokyo's oldest temple is the Sensō-ji, constructed in the year 645. Like almost everything else in this city plagued by earthquakes and fire, it's been rebuilt multiple times, but has always been an important place of worship….
Apr 03, 2014
The Temples of Meguro

We only visited Meguro because of its reputation as a great spot to view cherry blossoms. But while there, we figured we should see more, and embarked on a walk that took us to four of the neighborhood's temples….
May 13, 2014
For three crazy months, we dedicated our lives to exploring Tokyo. Every single morning, we'd leave our tiny apartment, hop on the subway and set off to discover something new and amazing in the world's biggest city. From sumo to kabuki, sushi to soba, gorgeous Japanese gardens, fascinating museums, distinctive neighborhoods, and wild nightlife, we tried to provide ourselves a well-rounded impression of the city… the only thing we really missed out on, was sleep!
We've now collected our blog into an e-book for your Kindle, Nook or other e-reader. With over 250 full-color photos and 100 articles, indexed alphabetically and by category, this portable edition is perfect for when you're out and about in the city. We weren't able to exhaustively document everything there is to do in Tokyo (a task for which 91 years would be insufficient), but we did have a lot of amazing experiences. And we hope our articles, anecdotes, advice and pictures can help inspire your trip.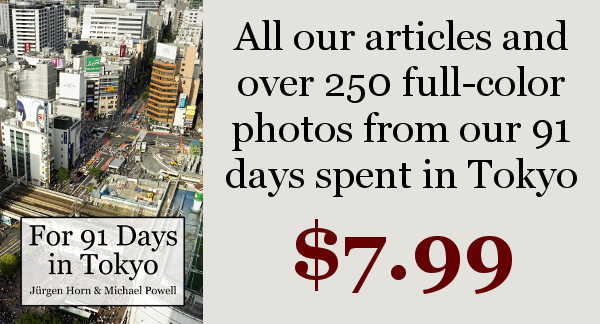 For just a few bucks, you can download your own copy of the book for use on your e-reader or computer, giving you access to our articles wherever you are, without having to connect to the internet. And, buying the e-book is a great way to support our project… take a look at some sample pages from the PDF.