For 91 Days
we lived in Tokyo, the world's biggest city, and it went by in a flash. There's no way to experience everything this mega-city has to offer, but we made a good go of it! Whether you're planning your own journey to Tokyo, or are just interested in seeing what makes it such a special place, our articles and photographs might help you out. Start
at the beginning
of our adventures, visit our
comprehensive index
to find something specific, or choose one of the articles selected at random, below:
mike_frontpage(); ?>
Showing #21 - 30 of 101 Articles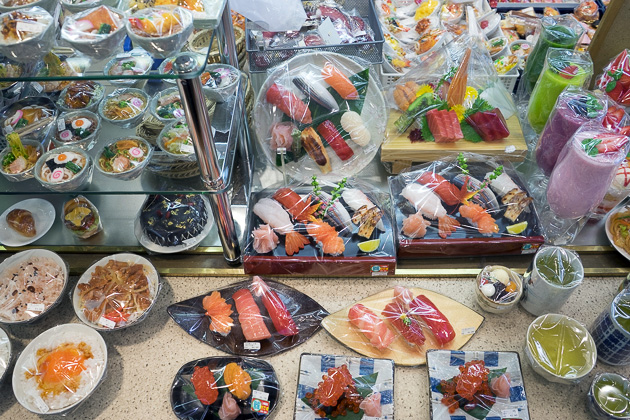 Perched atop the Niimi Building, the giant head of an Italian chef welcomes visitors to Kappabashi-dōri, where Tokyo's restaurants come to buy the things they need to run their business: chopsticks, cups, bowls, knives, takeaway containers, and naturally, an infinite variety of plastic foods.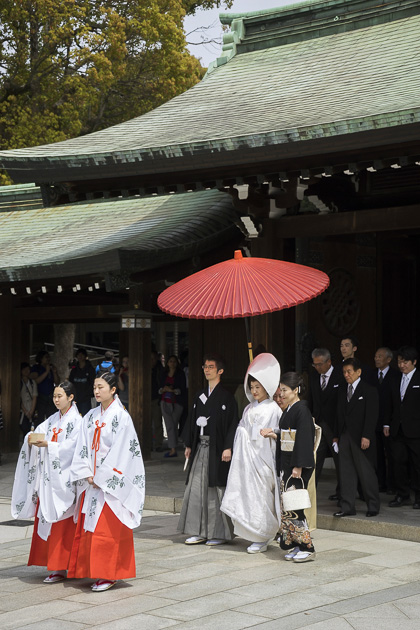 Directly across from one of Tokyo's craziest areas (Harajuku) is one of its most serene. Built to guard the spirits of Emperor Meiji and the Empress Consort Shōken, the Meiji Shrine is tucked away in a large evergreen forest, which neither the city's noise nor stress can reach.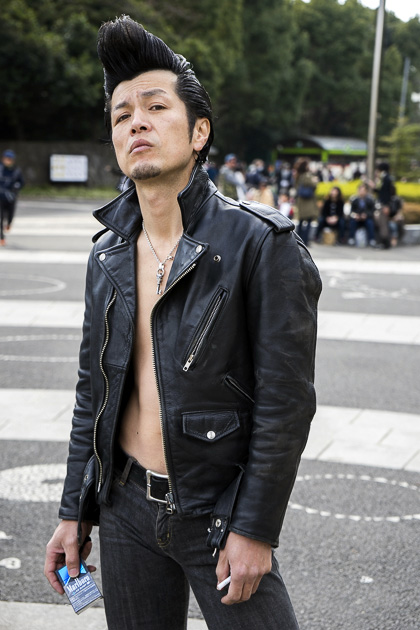 It's hard to say exactly when Tokyo started to frighten me, but it was probably during our visit to Yoyogi Park. While watching Japanese rockabillies bounce-step to Joan Jett, I moved out of the way for a couple dressed in... let's call it "Victorian Gothic Steampunk, Pastels Version." And that's when it hit home: something's not quite right in this city.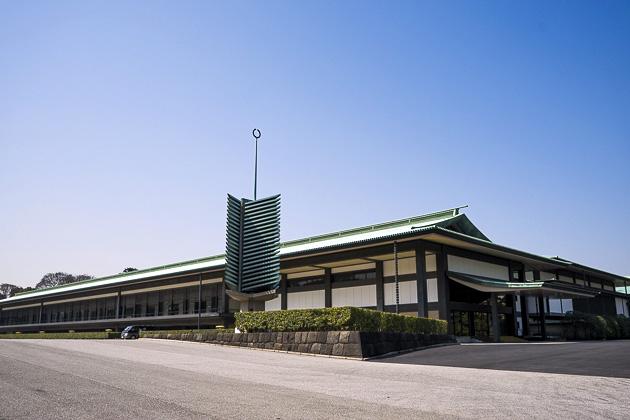 Tokyo has been at the center of Japanese politics since the early 1600s, when Shogun Tokugawa Ieyasu upset the balance of power by moving his court here, far away from the traditional capital of Kyoto. Ieyasu's original castle is now gone, replaced by the more modern Imperial Palace. We joined a brief tour to get a peek behind the gates.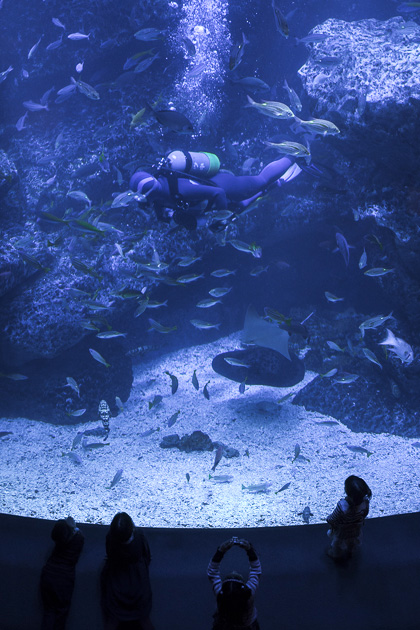 The rain was showing no sign of stopping. We stared sullenly at the clouds from our habitual perch in the SkyTree's sixth-floor Starbucks and tried to figure out what to do with the day. Suddenly, an inspiration: the Sumida Aquarium. A brilliant idea! So brilliant, in fact, it was shared by approximately 74% of Tokyo.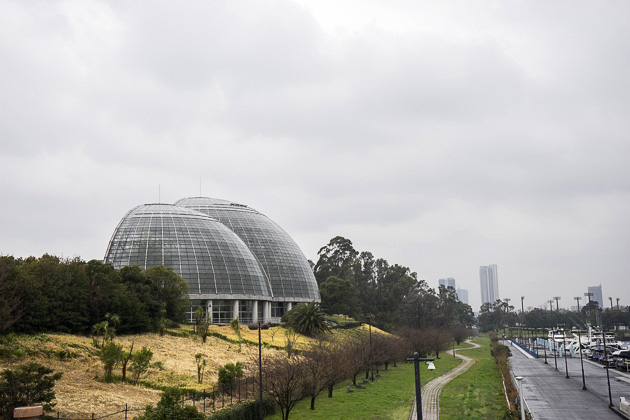 Close your eyes and picture "Dream Island." What do you see? Rolling hills, verdant valleys, beaches of fine white sand? Okay, now open your eyes and... Welcome to Yumenoshima! What's with that look of dismay? You weren't expecting an artificial island created from landfill, with a greenhouse powered by waste incineration, and a fishing boat exposed to nuclear radiation? Well, too bad. Yumenoshima is Dream Island, Tokyo-Style.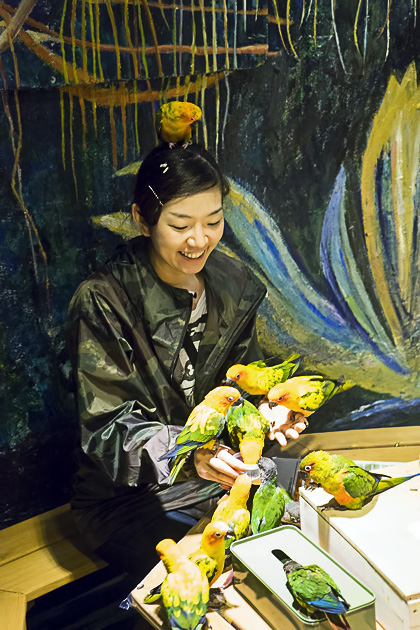 "This is fun," I said to the girl working at the cafe, raising my voice to be heard above the squawking. "But it would never be allowed in America!" She looked at me, baffled, and asked why not. At this moment, there were six parakeets on my head, and bird poop was running down my shoulder. Something was pecking at my neck and, in the next room, people were petting an eagle. I considered explaining, but decided against it. Regarding animal cafes, the rift between our cultures might be too wide.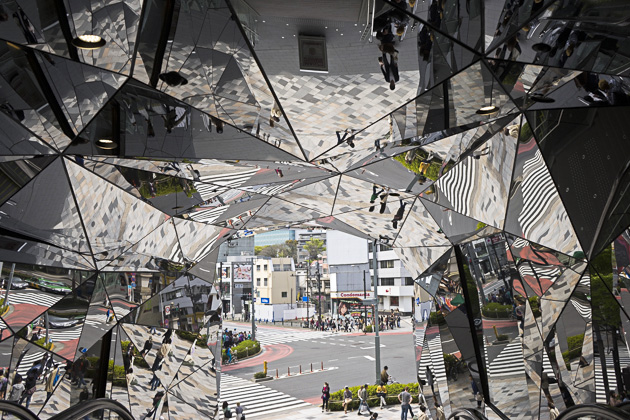 The street of Omotesando-dori, leading westward to the Meiji Shrine and Yoyogi Park, has earned a reputation as the Champs-Élysées of Tokyo. With haute couture brands like Gucci, Prada and Louis Vuitton occupying architecturally ambitious buildings, and Tokyo's most stylish citizenry stalking the sidewalks, a stroll along Omotesando-dori is both impressive and humbling.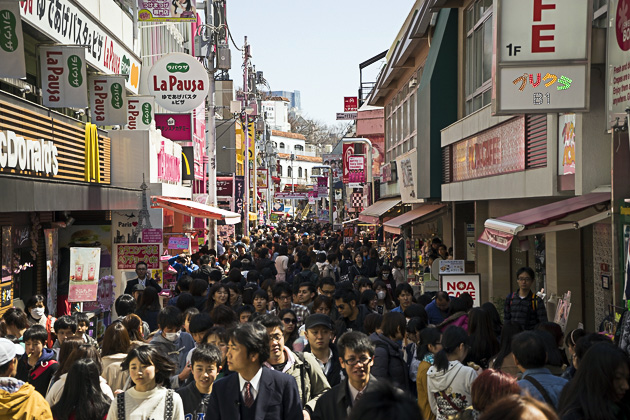 We knew it was going to be crazy. We'd seen pictures! We had read online accounts and talked to people who'd been there. Sure, Harajuku was going to be nuts, especially on the shopping street of Takeshita-dori, but we were ready. I mean, this is still Earth, people are people, and a crowd is a crowd. Am I right? It can't be anything we haven't seen a million times before.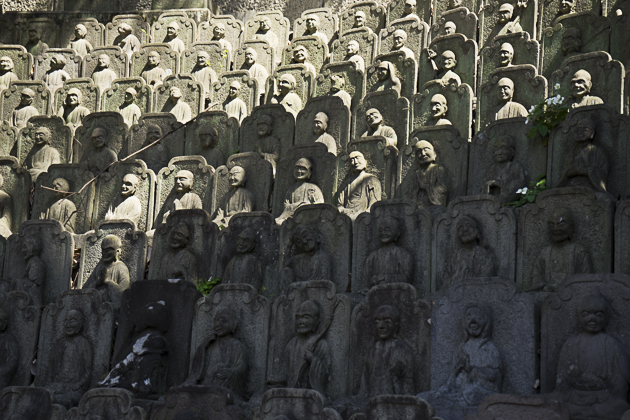 We only visited Meguro because of its reputation as a great spot to view cherry blossoms. But while there, we figured we should see more, and embarked on a walk that took us to four of the neighborhood's temples.